Advance scheduling and multimedia play for message announcement. It can also integrate with Open Data to show the local time, weather, air quality, etc.
You can easily remote control with the web-browser based interface via PC or mobile devices, making the management more convenient and flexible.

MT-2 Multimedia Scheduler
Schedule management for multimedia play: you can preset weekly/specified-date schedules and select holidays for not executing broadcasting.
Information display: clearly show the local time, weather, and air quality.
TTS (text-to-speech) function: just type messages in advance, the system would transform the texts into vocal messages.
By operating with BXB's WMP-1206 Speaker Circuit Zone Selector and other PA-related equipment, you can easily

execute 12-zone broadcasting

.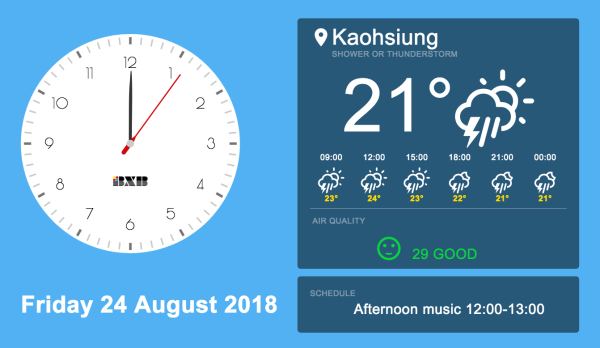 MT-2 Web Control Software
Remote control via the mainstream web browsers such as Chrome, Microsoft Edge, and Firefox.
Three setting pages for schedule arrangement: "Overview", "Weekly Date", and "Specific Date". Just few steps to complete the schedule settings for the entire year or semester.
You can add, delete, preview, and play multiple schedules at once, making schedule arrangement more efficient.
Various play modes as putting a song on repeat, sequence, random, or TTS based on your demands.
Equipped with the calendar and clock, making the time schedule setting more convenient and intuitive.
Equipped with earthquake setting, BXB's server would announce the warning messages before the earthquake occurs. Beside the warning sound, the information of intensity and seismic waves can also be shown on the monitors on site.