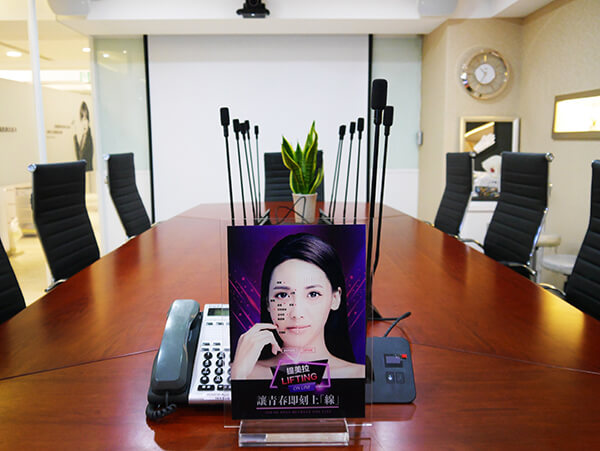 Taipei headquarter of Diamond Biotech Inc.
QCU-100 Video Conferencing Host x 1
HDR-731 Recording & Streaming CCU x 1
HDC-613 HD PTZ USB Camera x 2
FUN-6313 Table-top Chairman Unit x 1
FUN-6314 Table-top Delegate Unit x 10
Diamond Biotech Inc. has chain cosmetic surgery clinics in Taiwan. Its main business includes medical treatment consultation, production of skin care products, agent and rental of medical equipment. Recent years, it has grew rapidly and had signed the consultant contracts with more than 10 hospitals of Taiwan and foreign countries. Their self-innovated skin care products have also sold to the whole world.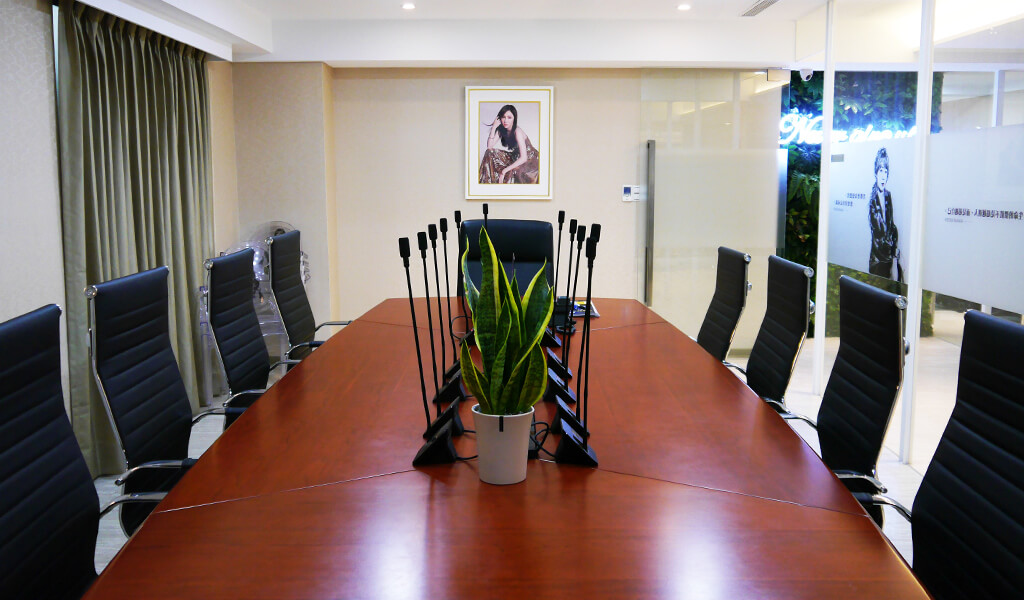 Due to many branches located, it's costly to arrange professional doctor training and case studies. Thus, video conference system and recording system could greatly decrease doctors' transportation fee as well as record the training materials for review and preview.
In accordance with the user's requirements, BXB's Q.con video conferencing solution and recording solution are regarded as the best choice. Q.con is one of video-related products BXB recently develops. In this case, two HD PTZ USB cameras and a new-type recording & streaming CCU work together for not only multi-point video conference but multi-screen split and display. The process of the meeting can all be recorded. Simultaneously, the displayed images can be live-streamed via internet, making a meeting room functions for video discussion, educational training, data collection, remote teaching, marketing, and so on.
To offer users' the best quality of video conferencing experiences, BXB makes great efforts with developing Q.con. As many attendees speak at the same time, Q.con can auto-track and then close up the speakers' facial images so that all attendees are able to know who are talking now. Moreover, Q.con's conference microphone is equipped with DSP chip, voice-activation, cardioid sound reception, and AGC (auto-gain control) techniques. Working with BXB's recording and streaming CCU, the system can split screens, customize PGM/multiview display, do live-streaming, record each video source and then save to USB and NAS. All the video data of meeting and educational training can be collected as e-database.
Applications in the Future
BXB devotes with innovating the systems suitable with various meeting rooms. We not only develop IP-based video conferencing and recording & streaming systems, in the future our system can also integrate with TV walls, electronic whiteboard, and other equipment. By enhancing the scale and quality of a meeting room, the discussion would be more effective. A meeting room is also not only for meeting, but for multi-functional purposes.