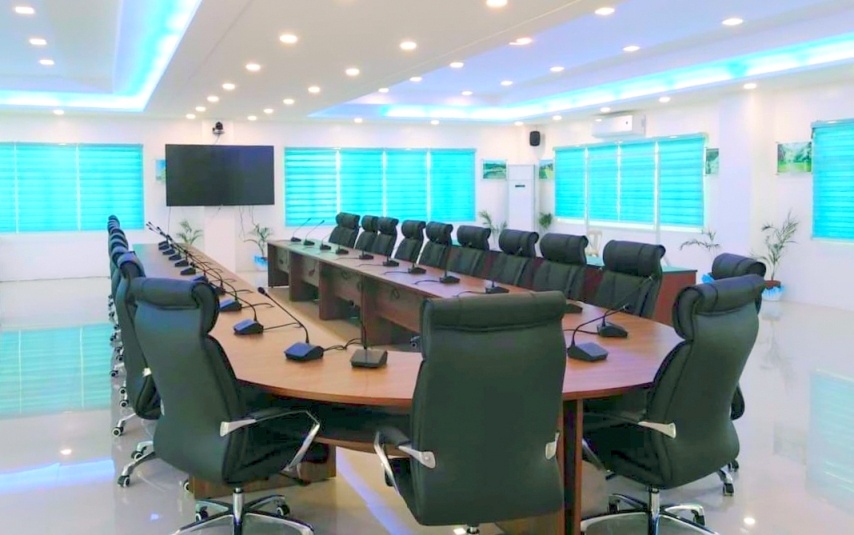 Republic of the Philippines Department of Public Works and Highways – Ilocos Sur
▶︎ Products Installed / EDC-2000
EDC-2051 Conference Main Control Unit x 1

EDC-2011 Table-top Chairman Unit x 1

EDC-2012 Table-top Delegate Unit x 24

WM-43B1HT Gooseneck Microphone x 25

CAT5E-25J 2.5M Cat5e Cable x 24

CAT5E-200J 20M Cat5e Cable x 1

HDS-720 Network AV Controller x 1

HDC-713 HD IP Camera x 1

GS-2804 8 Port POE+Gigabit Switch x 1

PA-5120PQ 120W Mixer power Amplifier x 1

AWS-6502 Waterproof Speaker x 2
The Department of Public Works and Highways (DPWH) is the engineering and construction arm of the Government. It is responsible for the planning, design, construction and maintenance of infrastructures such as national highways, flood control, water resources development system, and other public works in the Philippines. It has multiple offices nationwide, such as Ilocos Sur. Ilocos Sur is one of many provinces in the Philippines located in Region 1 / Ilocos Region, Luzon. This is the location where the BXB Conference System was installed.
DPWH oversees a wide range of construction and maintenance projects nationwide. The Ilocos Sur branch is in charge of overseeing projects done within Region 1. This therefore requires the branch to conduct several internal meetings regarding these projects, and also hold meetings with representatives from other DPWH branches and/or government offices. In 2019, DPWH Ilocos Sur completed the construction of their conference room. With that, they wanted to install an economical and multifunctional conference system to enhance the audio and video quality of their meetings.
BXB provided DPWH Ilocos Sur with the EDC-2000 conference system. This system can be configured through shielded CAT-5E cables. It has three conference modes: Normal, Chairman and Override to accommodate different meeting requirements. The EDC-2000 can support up to 265 microphone units, which allows the end-user to expand their current system economically.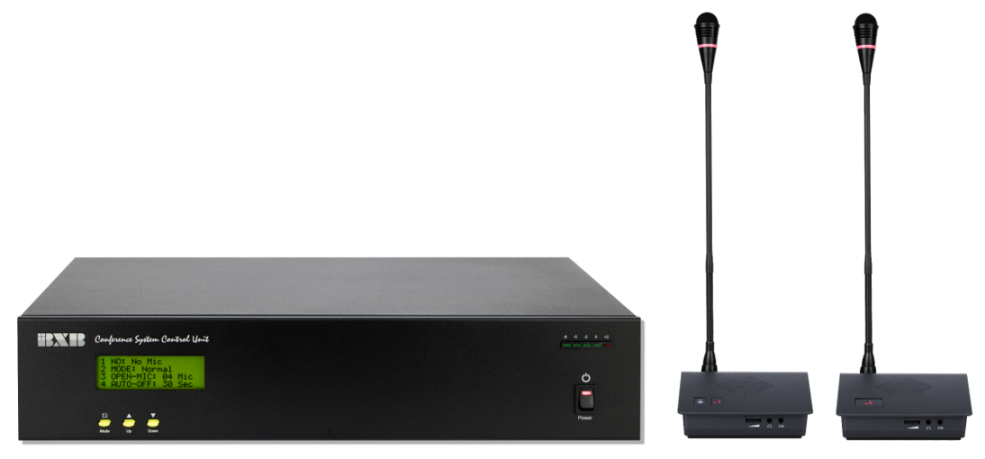 The EDC-2011 / EDC-2012 microphone accurately receives the speaker's voice while rejecting background noise. It has a built-in speaker which automatically turns off whenever the speaker uses the microphone to prevent feedback.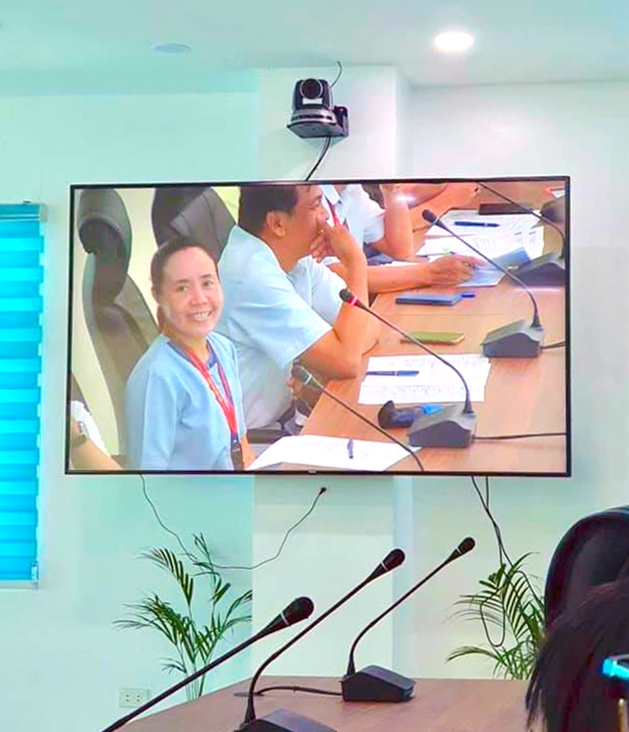 The HDC-713 HD IP camera allows auto-video tracking. Once a speaker's microphone is turned on, the camera will automatically pan and zoom in on him/her. This function allows all participants in the conference room to see who is the current speaker, making the conference smooth and efficient with the help of audio and video equipment.
▲ Set the preset point in advance, you can easily deploy speaker's image auto-tracking during the meeting.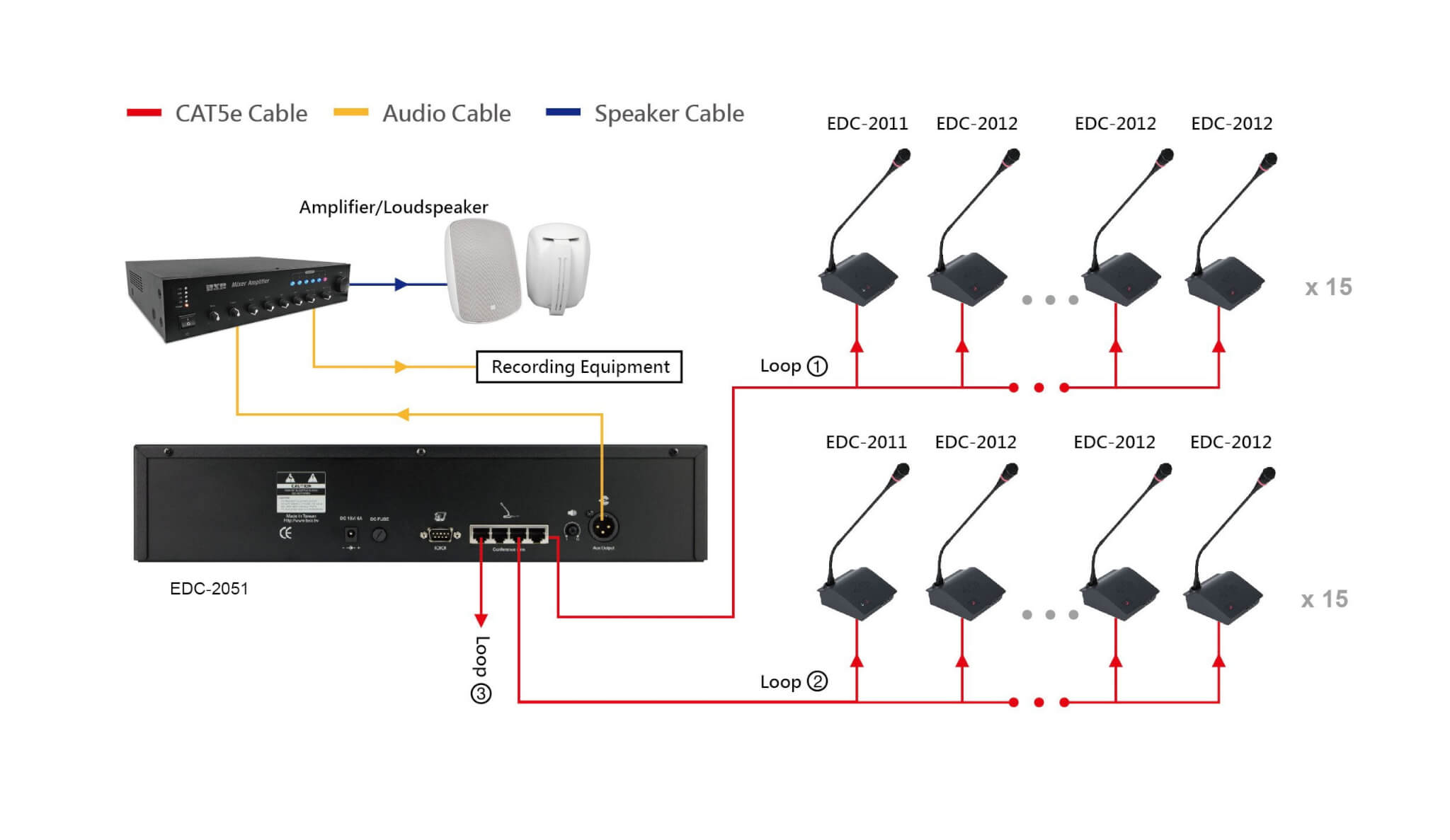 ▲ EDC-2000 System Diagram
Applications in the Future
With the development of the Internet era, there has been an increase in the demand for live-streaming which allows participants from remote areas to participate in meetings and conferences by watching via live-streaming sites such as Facebook Live, Youtube Live, etc. BXB HDR-731 Streaming Media Processor  is ideal to be added to this conference room solution. BXB HDR-731 provides up to 4 HDMI inputs, which can showcase live video of the conference, PowerPoint or video presentations into full-Screen, dual-Screen, quad-view, picture-in-picture and other customized views. Live broadcasting can also be simultaneously recorded. It can be recorded from start to end or in segments. This removes the need for additional equipment and manpower dedicated to recording the meeting.
If you have any inquiry of meeting room arrangement, please contact us directly!