URG, INC. was founded in 1990 and has operated Aesthetic Skincare Salons, SHANGPREE SPA that has awarded the Top 10 Innovative Products Award, the Best customer satisfaction index by Sports Donga, the Presidential Citation on Meritorious Export Tower, and many more. With the belief "to provide humanity with nature's vitality and beauty", URG exported the best quality, unparalleled skincare & cosmetic products nationwide and is loved globally.

To be the leading company of beauty industries, the appearance of URG's newly completed meeting room can be essential to show its profession and company culture. URG requires a conference system with excellent sound quality and aesthetic outlook. During the meeting, their staff would bring many documents, product samples, laptops, and other goods for ease of discussion. Thus, they need microphone units of small size that enable them to use the table freely. Moreover, attendees usually forget to press the speaking button on the microphone before speaking, which loses their train of thought. Therefore, the microphone with voice-activation function can solve this problem.
The FUN table-top microphone unit of the BXB FCS-6300 series is regarded as the most ideal solution for the customer.
(1) Each microphone unit is built-in with a DSP (digital signal processor) chip which can auto-adjust the sensitivity. The user can manually set the AGC level for each unit, offering the premium sound effect. By installing the professional acoustic system, the sound could be more pristine and fuller.
(2) During the meeting, it's embarrassing that attendees forget to press the microphone's speaking button before they talk. FUN microphone units can perfectly solve this problem. It detects the continuous human voice and then turns on automatically. With the cardioid feature, FUN microphone units will not be activated by the surrounding noises such as from loudspeakers in the meeting room and the applause. The user can also set the auto-off time of the microphone; the automation makes attendees focus more on the discussion.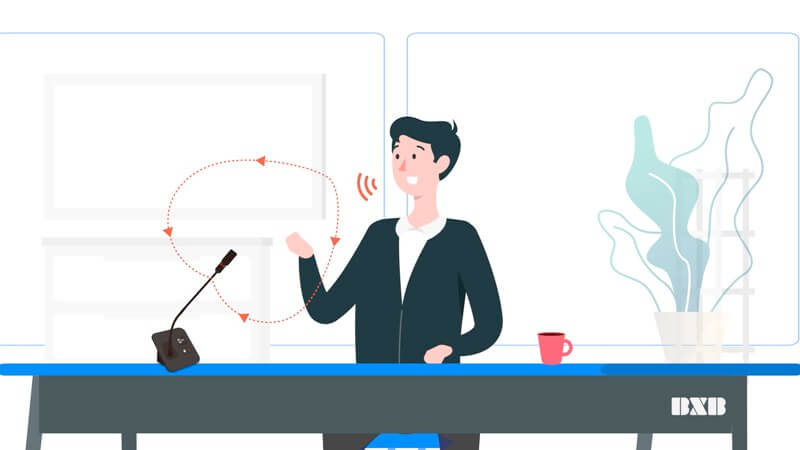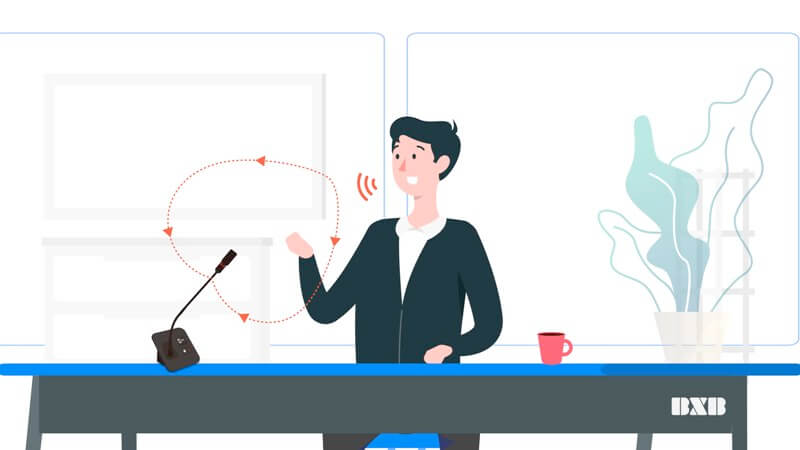 (3) The unit size of the FUN microphone totally complies with the customer's demand. It's only 11.5cm in height and 10cm in width, offering amply large spaces for attendees. Its exquisite design is also certified with iF Design, G-mark Design, and Taiwan Excellence Award.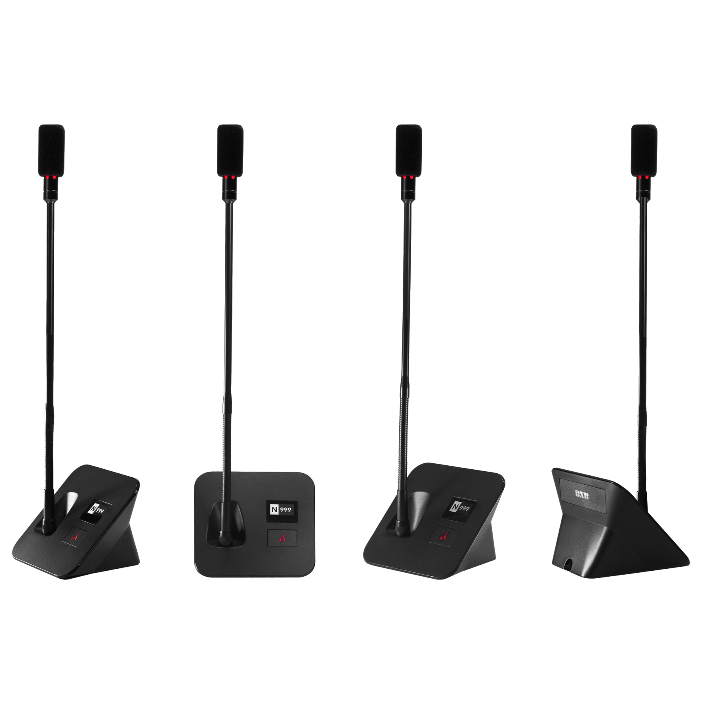 For an important meeting, setting the agenda and preparing the discussion materials in advance is required. And the meeting conclusion is what every attendee expends all energies and time on. These can be the company's assets that should be recorded and saved well. In the future, this meeting room can add HDC-715 Professional PTZ Camera, HDS-720 Network AV Controller, and HDR-731 Streaming Media Processor for capturing each meeting and saving as the database. The company's webinars and product releases can also be live-streamed on the network to enhance dissemination and branding awareness.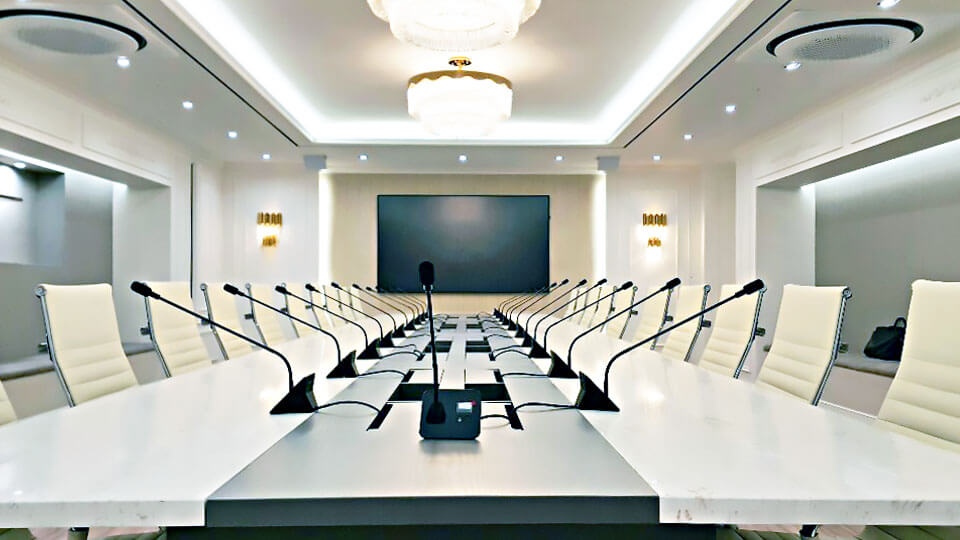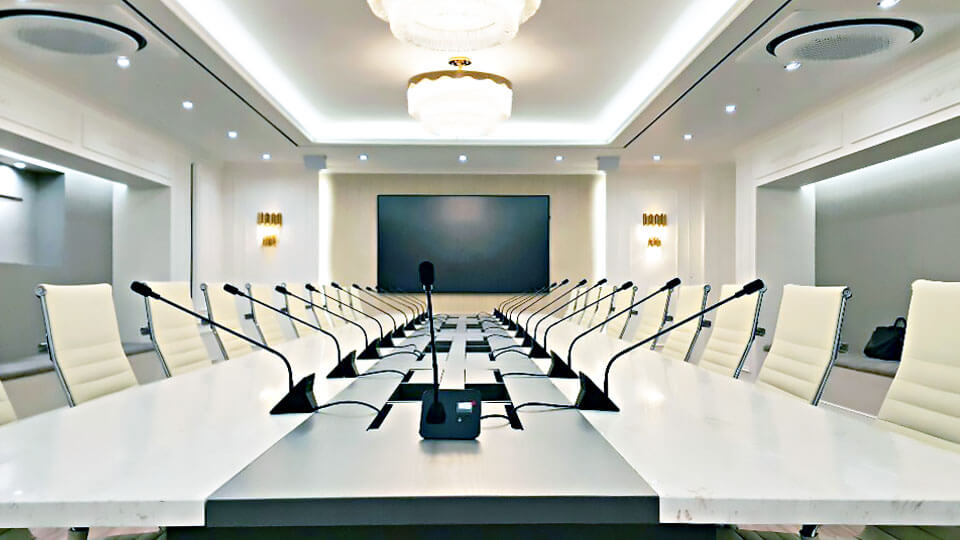 Installation Products / FCS-6300 Full-function Conference System
FCS-6350 (DSP-M1)丨Conference Main Control Unit x 1

FUN-6313 (DSP-7013)丨Table-top Chairman Unit x 1

FUN-6314 (DSP-7014)丨Table-top Delegate Unit x 20

WM-48D1R丨48cm Gooseneck Microphone x 21