Why does AV over IP boom?
AV over IP has been announced in ProAV industry for several years, but it has been particularly popular in the past two years. In 2017 and 2018, AV over IP products grew up almost 130% in two consecutive years, attracting all the ProAV professionals. Also, AV over IP becomes the most eye-catching focus at every major professional exhibition , including ISE and InfoComm. Some of ProAV professionals bluntly predict that AV over IP has become the future trend of ProAV industry and estimate that it will achieve an amazingly high CAGR of 60% per year from 2019 to 2025.
What is AV over IP? And why does AV over IP rocket in recent years?
AV over IP (Audiovisual over Internet Protocol), also known as AV/IP, AV over Network, IP distributed audio and video systems, or Networked audio and video systems. AV over IP refers to the use of standard network equipment to transmit and switch video and audio signal. Like IoT concept of IT industry, it is commonly referred to AV over IP in the ProAV industry. In technical essence, AV over IP provides the transmission of audio and video data over a standard network such as LAN, WAN or Internet cloud, as a similar concept of Netflix from Internet TV. With the popularity of IoT in various industries, AV over IP has been widely used to replace the traditional AV architecture.
In this article, we're going to introduce the concept and advantages of AV over IP. The technical specifications and considerations of installation would be left to subsequent chapters.
What are the differences between traditional A/V and AV over IP?
The traditional A/V architecture is similar to the basic elements and main architecture of AV over IP architecture. From a simple architecture diagram, AV over IP replaces the traditional A/V transmitter (Tx) with an Encoder, and replaces the signal receiver (Rx) with a Decoder. The audio and video matrix switcher is replaced by the standard Ethernet IP switcher. The IP switcher is the same as the one commonly used in every enterprise. As long as your organization has an IT infrastructure, there must be an IP switcher at least.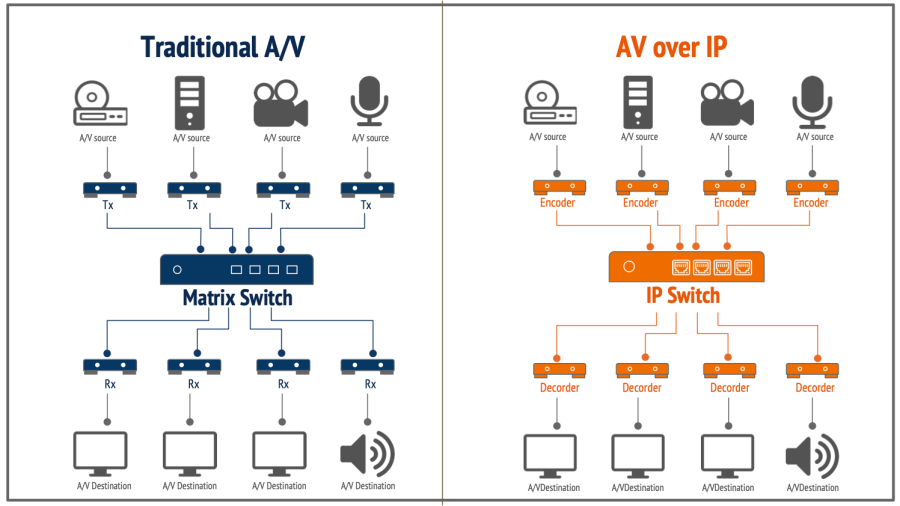 Although two architectures look similar, there are critical differences in between:
Transmission:

Traditional AV uses "physical cable" for transmission, no matter how system connected, no matter what kind of signal and analog signal, such as S-Video or composite, or digital signal as HDMI, HDBaseT, SDI, etc., audio and video signal are transmitted through cables and matrix switchers. On the other hand, AV over IP is connected with an IP switcher using regular cable, such as Cat5e or Cat6, and transmitted over an Ethernet, WAN, LAN, or WiFi.
Data format:

Traditional A/V keeps the data intact from the AV source, without any data compression, splitting or encoding, and then transmits data to the AV destination via a series of physical cables and switching boxes. In the contrary, in AV over IP architecture, the data of AV source is encoded into network packets by an Encoder, and each packet contains a part of original data, destination IP, and sequence of the original data. IP switcher transmits the packet to the destination decoder and then decodes and reassembles the packets into a data format that the AV destination can accept for display or control functions.
Way of switching:

In traditional A/V, matrix switcher plays an important role in transmitting signals from the source to the specified destination. Except some of few expanded models, most of matrix switchers have a fixed number of ports, which are distinguished by input and output ports. Generally, matrix switcher is a hardware based point-to-point technology, common products such as 4×4, 8×8, 16×16 or 64×64 matrix switchers. Taking a 4×4 (4 inputs and 4 outputs) matrix switcher as an example, 4CH of AV source signals can be transmitted and switched to 4 arbitrary destination devices for display, playback or control. Differently, the switching mode of AV over IP is that all endpoints will be given an IP address and IP switcher broadcast packets to the destination. The switching path is performed by specifying the source and destination IP addresses defined by a software. Since the ports of the IP switcher can be connected to multiple IP switchers for expansion, the number of endpoint devices of sources and destinations is no longer limited by the number of matrix switcher ports, and, most importantly, the number of endpoint devices can be arbitrarily expanded and adjusted.
Based on above three differences, it can be easily understood that AV over IP is an audiovisual signal transmission technology developed with the concept of IoT Internet protocol and IT network. Does this technology bring the benefits that are different from traditional A/V? Let's keep reading.
| | | |
| --- | --- | --- |
| | | |
| | Use physical cables for transmission | Connected with an IP switcher using regular cable and transmitted over an Ethernet |
| | | |
| | Hardwired, circuit-based point-to-point switching, routed by matrix switcher | Ethernet networked, packet-based, routed by IP switcher |
| | | |
Advantages & Benefits of AV over IP
Breakthrough distance limit:

Long-distance transmission is a major drawback of the traditional A/V because it needs physical cable and matrix switcher for transmission. In the past or in a small project, cabling is workable. Although the price of the AV signal cable is more expensive than the price of Cat5e or Cat6 cable, it is still acceptable. However, when in larger or bigger projects, especially transmission distance more than 100 meters or more, the cost of cabling increases significantly and unaffordable. With AV over IP, all signal is transmitted via the low-cost Cat5e or Cat6 network cable, and IP switcher is able to connect in series. The distance transmission of hundreds of meters is no longer an issue. Also, all AV signals can be forwarded into the Internet cloud and it is easy to manage remote AV devices worldwide.
High scalability:

Scalability is one of the evaluation priorities when building an AV system. In traditional A/V, the number of input and output ports of a matrix is the limited. Most of Audiovisual projects only consider purchasing the equipment to build the number of required endpoint devices. Once the AV system is installed, there is a lack of flexibility when future business operations change. A simple project may require an addition of a matrix switcher, and recabling of physical cable is needed, resulting in a substantial increase in manpower and cost. In some complex projects, it usually need to build a whole new and separated system. Conversely, AV over IP offers a high scalability. IP switchers can be easily connected, the number of endpoint devices can be arbitrarily expanded and adjusted, and it can provides customers a budget suitable for any AV system. For example, a customer can build audio devices only with an AV over IP system if the customer has only budget for audio in the first year and expand video device on the installed AV over IP system when budget for video is available without extra cost for other cabling or addition of a new system.
Cost-effective solution:

AV over IP can leverage the existing IT network infrastructure for cost saving. It is a obvious cost-effective solution. Most importantly, the more endpoints install, the more cost saving will be.  In tradition A/V, the more endpoints and devices, the more input and output ports of audio and video matrix switchers are required – higher cost and expensive matrix switcher. On the contrary, IP switcher is easily expandable and the cost is acceptable. When installing more terminal devices , the cost-effectiveness of the entire AV system will be more obvious. This year, there is a large project in USA with 800 endpoint devices installed.

The cost of using AV over is 1 million dollars cheaper than traditional AV matrix switcher design!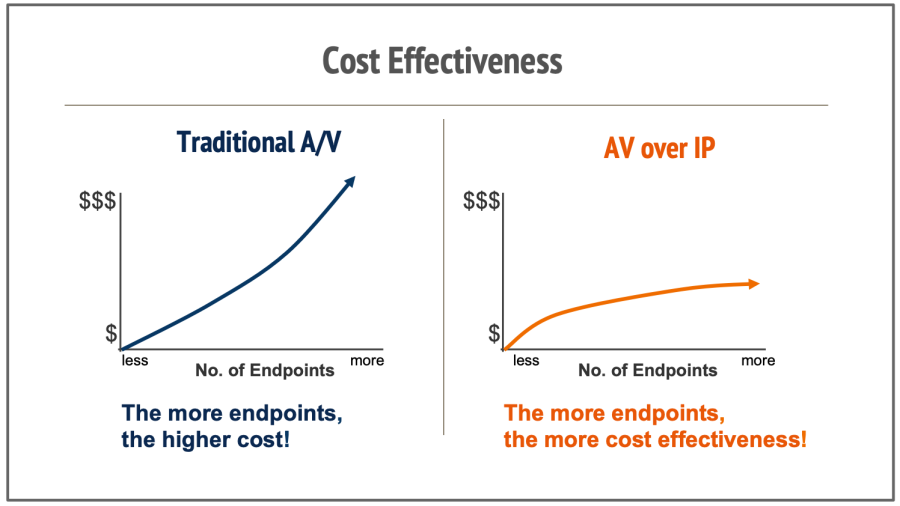 What to consider when switching to AV over IP?
AV over IP is the trend, definitely!
In conclusion, the market of AV over IP products is growing fastly and strongly. Originating from IT industry, IoT Internet technology has brought tons of changes in many industries. Now, AV over IP is going to transform Pro AV industry as soon and will make AV/IT no longer a clear barrier between both.
From a perspective of the development of a technology, AV over IP has just in beging stage in the Pro AV industry. A small trend is been set, and the big trend is just around the corner! As a professional in this industry, we must understand it, keep eye on it, even embrace it as earlier as we can. Don't be left behind.For any organization or enterprise, if we want to utilize audio and video as virtual but useful assets to support team to bring more creativity and productivity, we must have a highly scalable, cost-effective solution without distance limit audio and video system solution.
This article introduces the concept of AV over IP technology and its advantages. If you think this article is helpful, welcome to share it with friends.
Which bandwidth is most popular in AV over IP applications today?
While 10Gb switches have been slightly increasing, the price of 1G solution still offers the best cost-effective choice at this moment.  From encoder, decoder, switcher, and overall ethernet infrastructure, 1G solution provides 40% reduction compared to 10G.
Is AV over IP the same as Video over IP? How does video over IP work?
The concept of Video over IP or IPTV and AV over IP are broadly the same and working in a very similar way. Both are encoded and compressed from a video source and be streamed for distribution and then decoded at display destination. However, the differences between 2 technologies are the degree of compression, the complexity of the network and the resulting latency. Video over IP is widely adopted in IPTV, including set-top boxes and SmartTVs. On the other hand, AV over IP is preferred for audio-visual commercial installation for the best visual quality and lower latency within the 1G ethernet network.
AV over IP products & solutions

BXB ICP-5000 AV IoT Broadcasting & Environmental Control Solution is also Applied AV over IP Technology