Most IT, ICT, and AV integrators already knew the benefits of IP-based system structure and perceived the trend of AVoIP. The next step for them is to wisely implement AV-over-IP techniques and offer suitable solutions for clients.
Making a right decision will satisfy the needs of installation, using, maintenance, and scalability with a reasonable budget.
Making a wrong decision will get you into troublesome, inconvenient, expansive, and inflexible predicaments.
How to Choose a Right AVoIP Solution?
An AVoIP system is constructed by three components: Encoder / Decoder, Switch, and Controller. The most easiest way of selecting a suitable solution is to make sure if the three components are all compatible with your application.
Tips for Selecting Encoders / Decoders
Encoders and decoders are the basic devices of AVoIP system. They are rich in variety and specifications that make the buyers confused. There are some problems normally raised, "Which network should I choose, 10Gb or 1Gb ?", "Which resolution is better, 4K@30 or 4K@60?", "What level of low-latency is required ?" With many practical experiences, BXB offers the best suggestion to you: select encoders / decoders based on the application, demand, and budget.
Zero-latency, high color saturation, and uncompressed 4K@60 image. Looks great, isn't it? These features are extremely essential for the applications in movie theaters, TV broadcasting, and high-end live shows. However, to reach the standard, it needs 10G network bandwidth or even more! That could be prohibitively expensive to afford. If you buy for only basic needs, do not pay top dollar!
1Gb network is commonly applied in corporates, campus, and shopping malls. The video resolution requirement is normally 1080p even lower; 4K is rarely used for these applications. The zero-latency and absolute color saturation cannot offer the exact value to the users at all. Thus, 1Gb solution is sufficient for the general needs; it is also more cost effective.
Here we cite the data from IMACC: the budget comparison of 10G with 1G network for constructing a AVoIP system with 16 endpoints. The result shows that 1G saves around 40% cost more than 10G! Therefore, before pursuing the specifications, it is much more important to know customers' network environment, data transfer, using frequency, and other factors. You need to spend the money when it is worth it.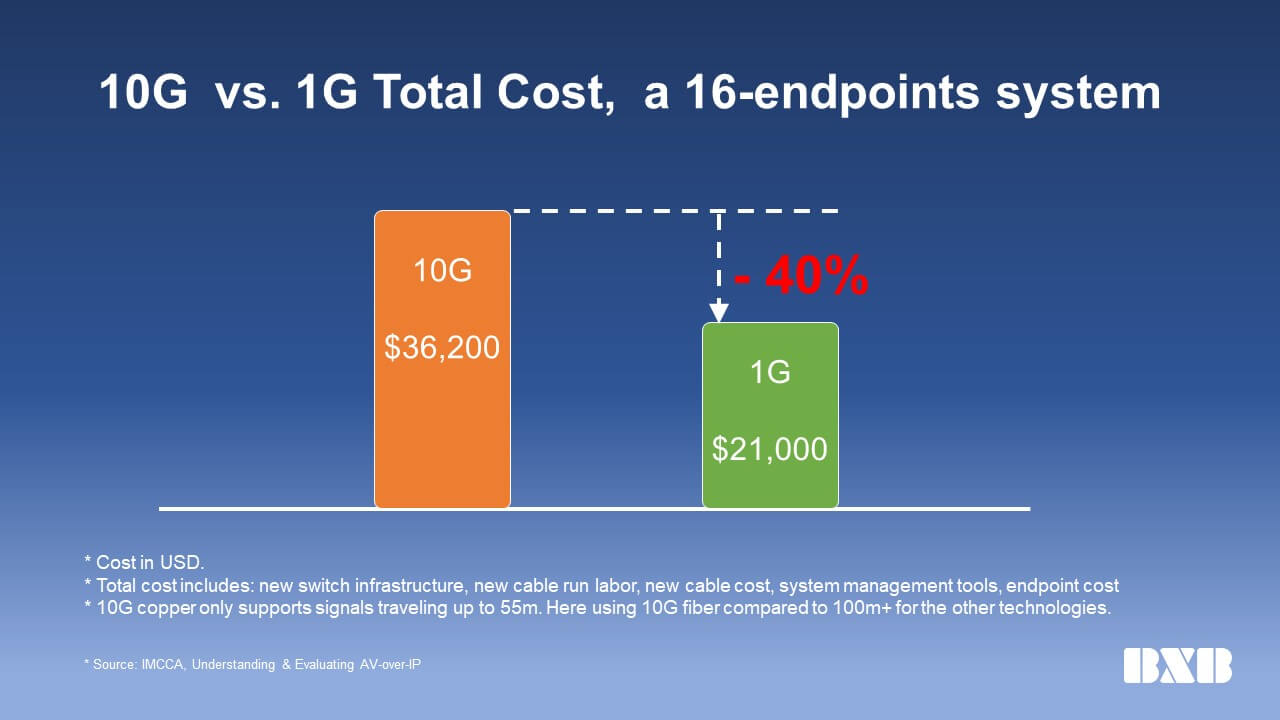 Network Switch- The Devil is Hidden in the Details
Network switch has been a mature equipment in the IT industry. You may be "familiar with" it but probably not "really know" it well.
When it comes to the network switch used for AVoIP, the most asked question is: "Should I need to use a specific brand switch?", or "Can I use the same switch used in the Data Center?" In terms of hardware, AVoIP switch and IT switch are almost the same. Whereas the software and configurations can be varied. The software involves profound knowledge points so we would not write much here.
Essentially, due to the huge data traffic of video, the software of a AVoIP network switch should include more complicated configurations such as IGMP level, IGMP snooping, multicast flooding, fast leave, and many other optimized settings. However, these configurations are not default settings in an IT switch. If the system integrators make the settings by themselves, they would require knowing deeply the knowledge of AVoIP switches and spend lots of time doing the settings, which is time-wasting and labor-consuming.
In some cases, system integrators used IT switches for AVoIP purposes. But they are unable to set the configurations well, which results in many problems during the installation as well as project delay. The worse problems include IP conflict and the network traffic due to too many seizing signals. Finally, the project failed and should SI lose their clients' trust.
Therefore, choosing a highly integrated and optimized network switch is the most time-saving, labor-saving, and low-risky way when constructing an AVoIP system.
Controller - The Commander of AVoIP System
Why do you need a controller? In an AVoIP system, a controller takes the role of a commander who directs each encoder where and which mode the signal should be transmitted to. It also takes the responsibility with system configurations, video switching, editing, management, and other complicated tasks.
In a large scale AV project such as PA system on campus or video wall construction, it requires dozens and even hundreds, thousands of displays. Therefore, a controller can be the most essential role of the entire system. It not only affects the speed and quality of system construction, but also determines the user experience and performance of the system. If there is no controller, it needs to outsource or find the manufacturer for AV programming program design. That is costly!
3 Tips of Choosing a Controller: Interoperability, Intuitive Graphical User Interface, and Custom API
Interoperability:

for the present AVoIP projects, the amount of encoders and decoders does not need to be tightly coupled. However, the protocols should be consistent because the suppliers try to provide their customers with guaranteed specifications and performance. Thus, it is necessary to purchase encoders and decoders from the same provider. With the same rule, the controller should be from the same company so that it is able to issue the command.

Intuitive Graphical User Interface:

as mentioned previously, a controller is responsible with complex commanding. When it comes to a large system, there would be dozens of terminal devices, encoders, and decoders. Remembering IP addresses of these devices can be extremely troublesome, not to mention that used for video walls, situation rooms, campus PA, and digital signage of buildings. To set various scenarios, layouts, matrixes, and IP distributions, a graphical interface with intuitive drag-and-drop features is required.

Custom API:

the variety of AV/IT systems and the cloud services in the future can all be constructed over the AVoIP structure. Thus, it is indispensable to have a controller with custom API and scalability. Without a custom API , it might need to build a brand new system and the new system is not able to integrate the existing system.
3 Key Questions to Evaluate the suitable Solution
After you do the research on encoders, decoders, network switches, and controllers, the next step is to confirm if the AVoIP solution provider you choose is suitable for you or not. Here, list three questions for your reference:
Can this supplier give you the full support for a AVoIP project?
Can the products that the supplier offers integrate all the devices and components required for the end-to-end solution?
Is your AV technician capable with the installation, management, and upgrade of this solution? Or, should you need to find another IT professionist?
To confront the complexity of AV/IT integration, we need to find a capable supplier/SI rather than only compare the product specifications. After reading this article, we hope you get the clue of choosing the right products and constructing a better system that is compatible with user experiences. That would bring you more business opportunities.
BXB can help you find a suitable AVoIP solution with reasonable budget. Fill in the form, we will arrange a time consulting for you!
#AVoverIP #AV-over-IP #AVoIP #avoip #SoftwareDefined #IGMPsnooping #MulticastFlooding #solution #AVsolution #videowall #SituationRoom #CommandCenter #AVdistribution #switch #SystemIntegration #integration #audiovisual