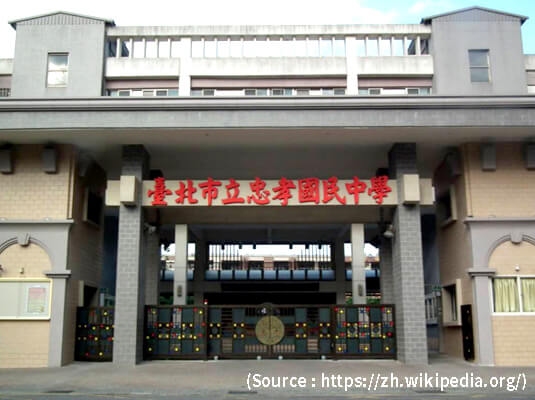 Taipei Municipal ZhongXiao Junior High School, Taiwan
ICP-3050 Multi-channel Audio Processor x 1
ICP-5030 Single-channel Multimedia Distributor x 1
ICP-5031 HDMI Network Signal Converter x 3
ICP-5050 Programmed Media Gateway x 1
ICP-5072 Graphical Control Software x 1
ICP-5011 IP Decoder x 24
PSC-1202 Sequence Power Control Unit x 1
Taipei Municipal Zhongxiao Junior High School was officially founded in August 1, 1970. In June 1975, all the buildings had been established, including 3 main buildings, 1 platform, 2 basketball courts, 2 volleyball fields, and PU sports tracks. After 4 years, the student activities center was built for the faculty, students, and the residents of the community. The school motto,"Zhongxiao represents be faithful to affairs and be filial to parents and teachers". Based on this motto, four missions have been established, "Responsibility & Honor; Services & Superiority; Sincerity & Gratitude; and Consideration & Respect". These four missions are to inspire each student to be happy, to care for others, society and nature, and to contribute himself/herself to the entire human society in any possible aspect.
This school project is organized by Leader Communication Limited, established in 1985. It's specialized with the systems engineering of organizations and schools. From the initialized, design, construction, to maintenance, Leader Communication always holds the business spirit "taking quality and services as the priority" and shows high efficacy and enthusiasm to the customers with different requirements.
1) To follow the IoT trend, IP-based network structure is required.
2) The school has varied time schedules. Thus, the system should announce messages and ring the school bell automatically by hour, day and specified time.
3) TTS function is required to execute audio broadcasting, enhancing the school's operation efficacy.
4) The school normally exchanges classes or changes the rooms for teaching; thus, a system with a flexible setting mechanism is quite important. It greatly saves the time of manual adjustment.
5) To realize a safe campus , the system should be integrated with earthquake warning functions.
BXB ICP-5100 Video & Audio PA Systemcan meet the school's demands. ICP-5000 is constructed with single cable for transmitting image, audio, and control signals via standard TCP/IP. It can control the maximum of 700 single-zones and 70 groups. Users can set the graphical arrangement based on the actual building/area distribution. Regarding the functions, ICP-5000 can execute audio broadcasting, video broadcasting, text announcement on the digital signage, TTS (text-to-speech) broadcasting, broadcasting on schedule, live broadcasting, phone/APP broadcasting, power supply control, push notification of emergency warning, emergency call, and two-way intercom, having high-integration abilities and flexible operations. The broadcasting-on-schedule mode can carry out auto-broadcasting without manual control, which saves lots of labor costs.
There're 24 classrooms (with ICP-5011 IP Decoders and WS-817L Two-way Speakers), 23 special-subject classrooms (with WS-817ALM Teaching Speakers), and 34 administration offices (with WS-665T Box Speakers) of this projects. These rooms all work with ICP-3050 Multi-channel Audio Processor and ICP-5072 Graphical Software for satisfying the demands of bilingual teaching. The system can play different audio sources for English listening comprehension exams to different grades at the same time. Applying with BXB's loudspeakers, it offers a clear-sound language learning environment, enhancing the teaching quality and activating students' learning effects.
Applications in the Future
Without reconstruction and replacement, the school can integrate more equipments for multimedia teaching and text broadcasting.
If the school's original system for time clock is suddenly broken, ICP-5000 could quickly become the spare system to keep the function working.
ICP-5000 can work with decoders and emergency call buttons for safety use in the restrooms or the dead corner on campus. When students are in danger, the signal of emergency call button would be transferred back to the MCU. The position of students would be indicated and then the alarming flash speaker would be activated for hindering the suspect at the first time to decrease the harm.
"Innovative Products, Customer is the Priority" is what BXB holds. We would work harder on offering more professional products and services to customers. BXB could be your best choose and partner!
BXB offers comprehensivsmart campus solutions.Contact usfor custom design and arrangement!