What is an HDMI extender?
HDMI extender is a device used to extend High-Definition Multimedia Interface (HDMI) signals. It is a single device or pair of devices powered through either the 5V DC from the HDMI source or through an external power source. It is generally designed to ensure long-distance signal transmission.
When do I need an HDMI extender?
HDMI cable is suitable for transmitting high-resolution multimedia video signals, but it has a fundamental problem – when the transmission distance increases, the signal will be degraded – and the receiving device may be abnormal or fail to receive the signal.
Many factors could affect the maximum length of HDMI signal, including the distance spanned differences in device output, interference, technical requirements, and etc.
If your HDMI signal transmission length exceeds 10 meters, the best way to ensure the signal quality is to use an HDMI extender.
Types of the HDMI extenders
There are several different HDMI extender types:
HDMI over IP:

also called HDMI over Ethernet, uses an ethernet infrastructure to encodes HD video signals into ethernet packages, to distribute packages from one source to an unlimited number of receivers, and, finally, to decode packages into HD signals to any screen or display, overcoming the problem of distance limitation.

HDMI over HDBaseT extenders:

the structure is similar to HDMI over IP, but it uses HDBaseT Technology instead of Ethernet TCP/IP. This provides great flexibility for AV installation. However, HDBaseT can only transmit signals up to 100m. When the distance is longer than 100m, you need other extenders or repeaters.

HDMI over coax:

coax cable, commonly used in cable television and radiofrequency transmission, can also be used for the transmission of HDMI signals. Two units are also needed to provide the transmission between HDMI cable and coaxial cable. Because coaxial cables are costly and often relatively thick and inflexible, it is not widely used for commercial applications.

HDMI over wireless:

this sounds great to offer the advantage of providing a connection between HDMI devices without the need for wires to be installed. However, it does need to be a very good wireless connection for the system to work, otherwise, signals will be dropouts from time to time, or the bandwidth could be limited. So, this is not widely used when signal quality is required.
In short, HDMI over IP and HDMI over HDBaseT extenders are the two most common ways to solve HDMI distance limitation issues. And you need to read below.
How to choose the right HDMI extender?
Please consider some key aspects before buying a HDMI extender:
Distance and Length
From 30 to 330 feet (10 to 100 meters), HDMI over IP and HDMI over HDBaseT are both suitable. If the length is longer than 100m/330ft, HDMI over IP would be a better choice.
Required Video Resolution

Some projects need 1080p (1920 x 1080 pixels), but some need 4K (3840 x 2160 pixels). 1080p can meet almost all of your demands, but 4K provides vivid and better picture quality. Before choosing an HDMI extender, you have to check the content and display that is the most economical for you.
Video delay
If you can't accept any video delay or you pursue extremely low latency, we suggest you purchase an HDBaseT extender. Generally, the price is comparatively higher than others'.
Future Expansion
Should your project have the chance to be expanded, it would be better to choose HDMI over IP. Since HDMI over IP is over Ethernet infrastructure, you don't need to do recabling when expansion and easily upgrade your project.
(1) Atlona AT-HDR-EX-70C-KIT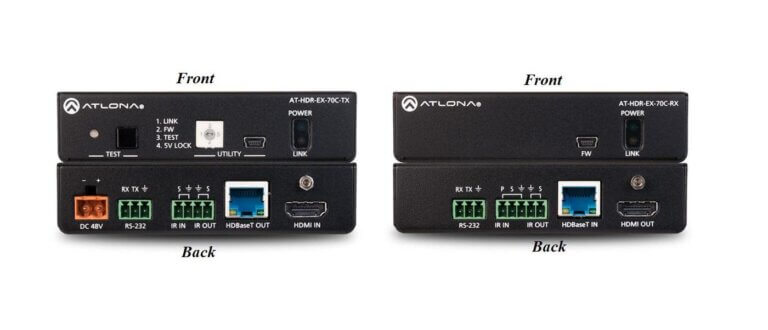 The AT-HDR-EX-70C-KIT is a high-performance HDMI extender kit for long range HDR formats. It can handle data rates up to 18gbps with HDCP 2.2 support up to 4K at 60hz 4:4:4. This extender is designed to provide visually lossless compression without latency at long distances. The AT-HDR-EX-70C-KIT can send HDMI, IR and RS-232 control signals up to 130 ft (40 meters) for 4K HDR using CAT6a/7 cable.
KEY FEATURES 
4K @ 60Hz 4:4:4

HDMI, IR and RS-232 control

Up to 130 ft
(2) BZB Gear BZB-EXH-50POC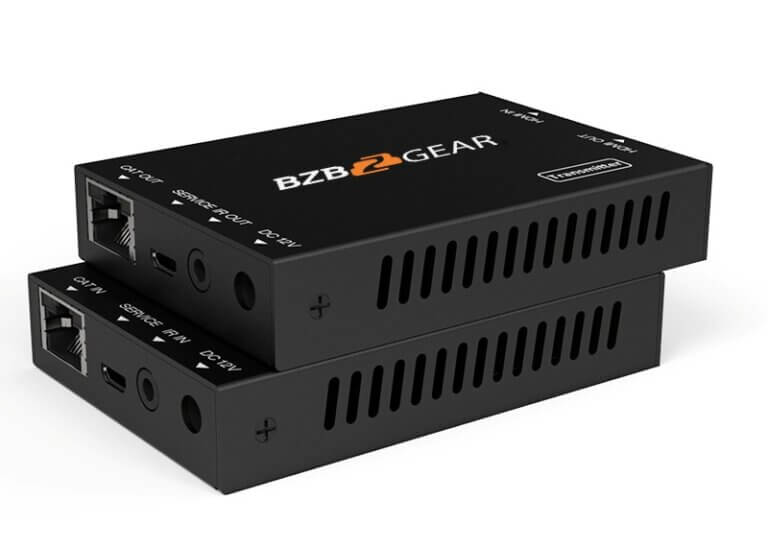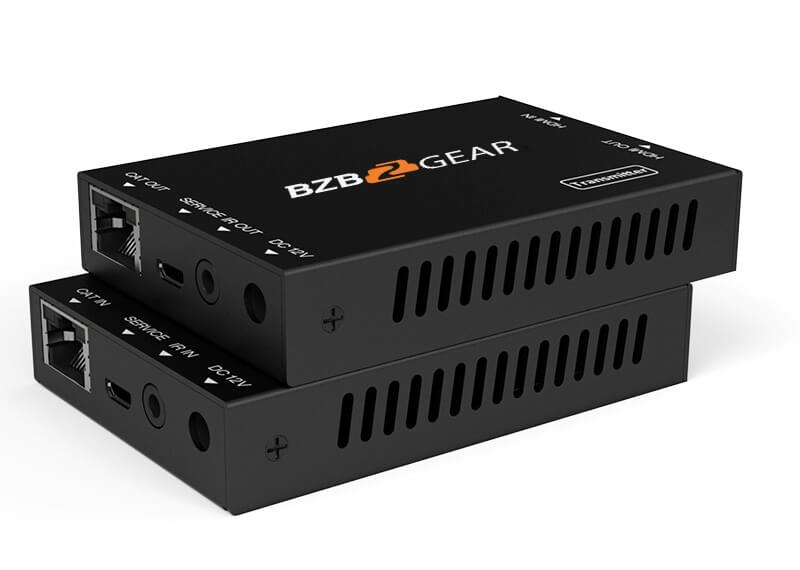 The BZB-EXH-50POC is a cost-effective, state-of-the-art HDMI extender. It utilizes a single CAT5e/6 cable to solve problems for small-to-medium size applications for distributing high-value 4K UHD content from rack to display. The kit allows signal extension up to 164ft/50 meters without any loss or degradation of video or audio quality. Additionally, this product supports HDR, extending data rates up to 18Gbps utilizing HDMI 2.0 ports.
KEY FEATURES 
4K @ 60Hz 4:4:4

Up to 164 ft
(3) BXB HEP-150UT/UR HDBaseT 4K HDMI+USB Extender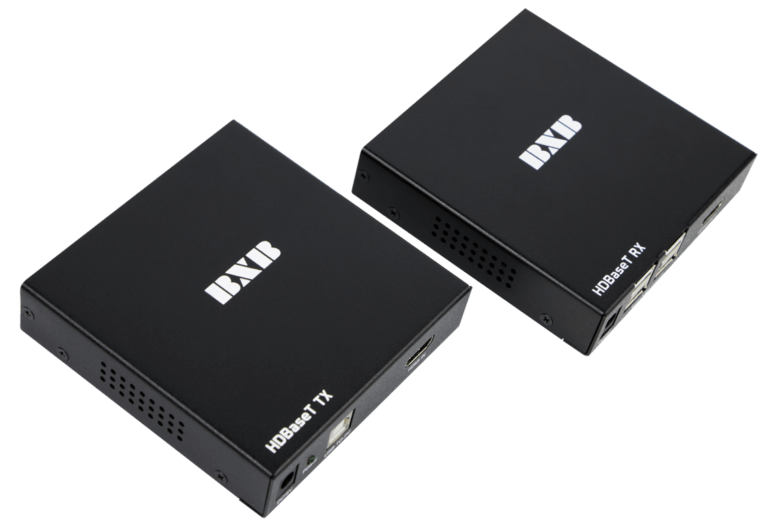 Using HDBaseT technology, BXB HEP-150UT/UR provides no compression, no latency and supports up to 4K/2K@60Hz 4:2:0 resolution. Using the CAT6, the maximum transmission distance of 1080P resolution is 150 meters, and the maximum transmission distance of 4K/2K is 100 meters. It supports remote IR control, USB data transmission, USB control, RS-232 control, making device remote control easier. Plug and connect to the CAT cable to start. No need to control via additional software, it's that simple! Btw, it provides USB to support you to realize KVM applications.
KEY FEATURES 
No Compression, no latency
Up to 150 ft
HDMI, IR, USB, RS-232 control
(4) BXB VDM-4010/VDM-4020 4K over IP Matrix Encoder / Decoder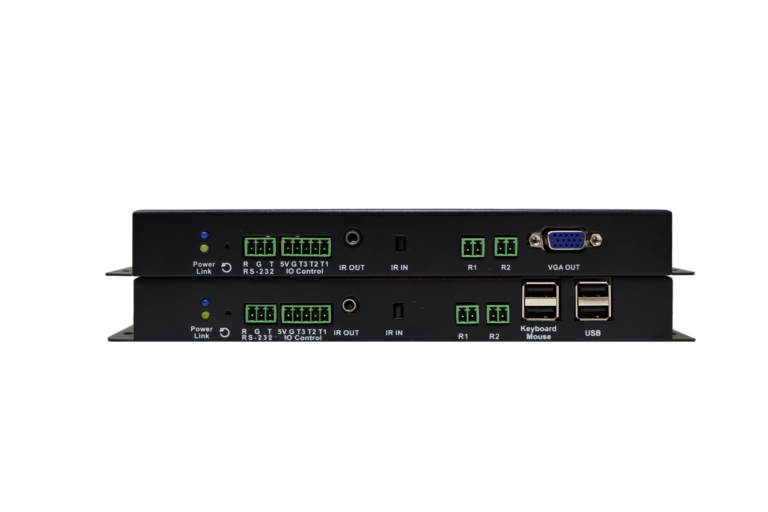 BXB VDM series is a high-performance, ultra-low latency, infinitely scalable audio and video network solution. Supports 4K video / audio / RS-232 / IR / USB/SFP/Optical Fiber, through the standard 1G network, easily managing the deployment of video and audio networks. It provides not only HDMI extenders, but also support you to realize Video wall, extended display, KVM management, and more.
KEY FEATURES 
AV over IP
4K UHD, Audio, RS-232, IR, US, SFP, Optical Fiber
Video wall, KVM … Applications
How long can a HDMI cable be before it loses quality?
Generally, HDMI signal transmission problems rarely occur within 10 meters. But how long will it happen? Several factors impact. For example, the wire material used and anti-interference magnetic rings at both ends of the cable will affect the quality of signal transmission. If you want to 100% ensure the signal transmission quality, the HDMI extender is the best choice when the length is more than 10 meters.
Do HDMI repeaters really work?
HDMI is an economical solution and it's a cheap fix. But, frankly, it's not that reliable for commercial projects. We had heard a lot of screw ups by using HDMI repeaters. Don't put your business at risk.