Have you noticed the rapid growth of AVoIP?
Due to the COVID-19 impact, the sales of the global ProAV market greatly decreases in 2020. However, AVoIP solutions, based on network distribution, grow rapidly against the trend across the entire audio-visual and system integration industry. According to a survey conducted by《Commercial Integrator》for the global ProAV industry, here are some indicators deserved special attention: ​
The number of AVoIP projects in 2020 is more than that in previous years.
In the past, AVoIP was only used as part of large-scale audio-visual system projects, but now it has been actively requested by end-users for comprehensive network solutions.
More than 80% of ProAV system integrators are planning to fully apply AVoIP as a future proposal.
Corporate and education are the two most suitable markets for AVoIP. The key decision-makers are normally the IT directors or IT experts.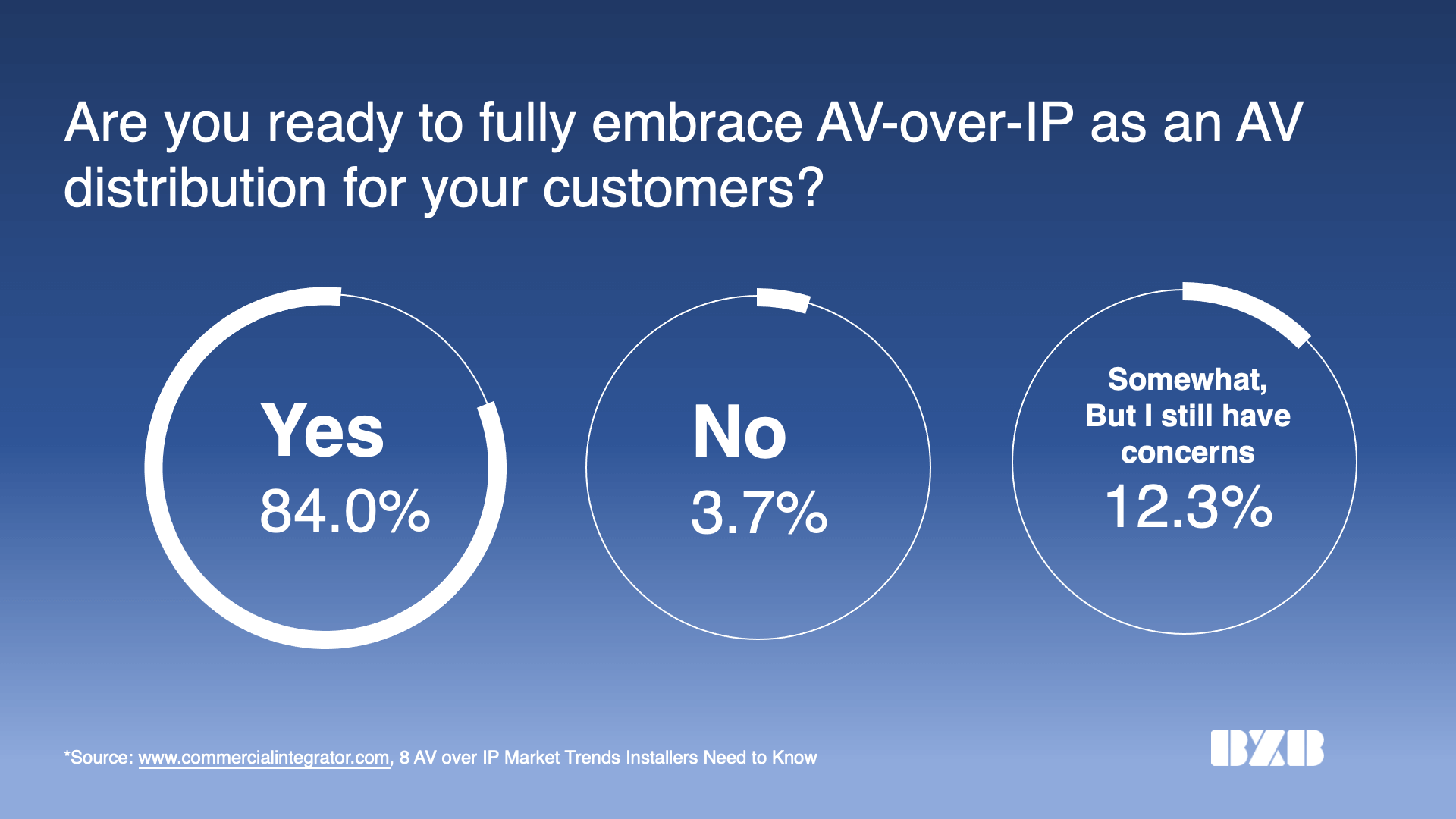 Why does AVoIP grow rapidly?
The starting point of all businesses is the user benefit. Because of its IP distributed architecture, AVoIP is able to overcome the physical limitations of matrix switching. The technical advantages have been fully recognized by the AV industry. To deeply probe into the reasons for the AVoIP growth, we can find that AVoIP not only benefits system integrators, but also give value for end users:
More Reasonable Construction Costs
From the perspective of the construction cost, AVoIP is more economical than audio-visual matrix switching. The cost of AVoIP is based on the actual needs, including the number of input sources, the quantity of terminal devices, and the decoders and encoders required, which is more reasonable and easier to estimate. In contrast, the traditional matrix requires the switchers with fixed I/O interface, which will be wasted if some ports are not used. If I/O ports are not enough for the actual use, you have to purchase a higher scale of matrix switcher, resulting in more remaining I/O interfaces and more waste.
Flexibility, Scalability, and Controllable Cost
Another advantage of AVoIP is its flexibility and controllable cost for expansion. When an existing system needs to be extended, you just need to know how many I/O devices, decoders, and encoders will be added. You won't be tied up by the original architecture and the heavy recabling cost; instead, IP settings can do it. On the other hand, when the matrix is expanded, the budget of increasing a few devices could be multiple or even exponential. Moreover, recabling is time-consuming and laborious with large expenses. Therefore, the convenience and controllable cost of expansion completely solve the pain points of traditional matrix switching.
Comprehensive AV Distribution System
In a networked AV system, all of the audio-visual contents from any specific space of the entire facility can be distributed to multiple or designated end-points at the same time. Corporate headquarters and campus are the most obvious applications. AVoIP can instantly distribute audio and video sources to every space including the reception hall, cafeteria, training room, resting room, meeting room, office area, etc.
This is especially helpful during the COVID-19 pandemic where social distancing drastically reduces the capacity of the given space. AVoIP allows for distance learning measures, where video can be distributed in real-time and low-latency to multiple classrooms at once, realizing the virtual expansion of the classroom.
AVoIP is Definitely a Trend
AVoIP is a technique employed over a standard TCP/IP network. Over the decades, the Internet development has matured. As long as there is a sufficient number of network switches and bandwidth, IT managers can easily manage the entire system. Therefore, AVoIP is definitely the trend of the future.
In the future, a variety of environmental control, remote management services, remote technical support, performance monitoring services, and even audio-visual combined with AI, IoT, and Big Data, the digital transformation and smart services can all be deployed on AV over IP. Traditional matrix cannot do this; this is the most critical reason for the growth of AVoIP.
IT industry Stepped into ProAV
The ICT and IT companies are familiar with network technology, so it's easy for them to apply AVoIP expanding their business scope to AV integration service. Meanwhile, they also introduce the audio-visual products to end users through a wide range of IT sales channels, which promotes the entire growth of AVoIP.
Barriers to Enter AVoIP Field? How to Overcome It?
《Commercial Integrator》 lists the two main problems that ProAV system integrators will face when applying AVoIP: lack of IT network knowledge and lack of programming design talents.
IT network is quite mature and AVoIP is based on the standard TCP/IP network. As long as you know the settings of the network switch, it is not difficult to get started with AVoIP. However, the advanced settings of a network switch can be very complicated. When deploying a AVoIP system, choosing a network switch that optimizes the audio-visual system settings can save a lot of trial time and labor costs during the deployment.
Although IP brings lots of flexibility and advantages, we need someone specialized with IT and programming design to make the maximum benefits. About programming design, getting started is not as easy as setting up a network switch. Professional training is required. When evaluating AVoIP solutions, you need to choose a complete set of AVoIP, including encoders, decoders, control matrix with GUI settings or deployment software, which can save outsourced modification fees or additional programing costs. This is very important because the cost of outsourcing programming is very high, and it is often the key to the profitability of the entire project.
If you are a ProAV system integrator, your consideration is not whether to adopt AVoIP, but how to

develop the proposal ability of the AVoIP solution

as soon as possible

.

If you are in the ICT or IT industry, your key point is

choosing a brand that can provide a comprehensive AVoIP solution,

help you get product knowledge of ProAV products quickly, and integrate your original IT sales channels for the synergy.
Finally, whether you are a ProAV or IT system integrator, we're looking forward to seeing you on the way of AVoIP in the future.
#AVoverIP #AV-over-IP #AVoIP #avoip #NetworkDistribution #audio-visual #ProAV #SystemIntegrator #IPsolution #matrixswitching #socialdistance #distancelearning #digitaltransformation #ITSystemIntegrator #COVID19