Regarded as the Oscars of the Taiwanese industry, the latest results for the 2024 Taiwan Excellence Awards have been announced. BXB Electronics, with its two entries, the 'Smart Meeting Room Solution' and the '3-in-1 Smart Wall Speaker' once again proudly received recognition at the 31st Taiwan Excellence Awards. Rigorously selected by a panel of over a hundred experts, these products stood out among nearly a thousand entries, showcasing exceptional innovation across various dimensions, including research and development, design, quality, marketing, and production. This affirms BXB's commitment to product innovation and research and development capabilities, aligning with global trends and possessing a high level of competitiveness in the market.
Pioneering Global Smart Meeting Solutions
In the midst of the ongoing waves of digital transformation and the rising tide of ESG, smart meeting rooms have emerged as a critical investment for businesses worldwide. BXB, with its core technologies in audiovisual IoT and AVoIP, has developed a globally leading smart meeting solution. This solution boasts a comprehensive situational framework, high-level integration, and outstanding compatibility. Beyond achieving eco-friendly and efficient communication, it seamlessly addresses the growing needs of customers. The complete features include:
Seamless Integration, Industry Leading
Comprehensively integrating wireless projection, cloud conferencing, audiovisual streaming, AI tracking cameras, smart environmental control, and other application functionalities. Combined with its innovative visual presentation mode, BXB's Smart Meeting Room Solution is designed for various meeting and discussion scenarios, offering an experience of highly efficient communication and decision-making effectiveness.
Exclusive Development of Web UI Control Interface
Featuring an HTML 5 cross-device interface, this interface requires no installation, effectively avoiding cybersecurity concerns. With an intuitive drag-and-drop and click operation, users can quickly set up meeting scenarios and deliver content within a few simple steps. This significantly reduces operational burdens, making BXB's Smart Meeting Room Solution a platform that allows all participants to focus more on the exchange of ideas during meetings.
Standardized Subsystems for Flexible Adaptation
For customers unable to make a comprehensive purchase at once or with budget constraints, the flexibility of selecting suitable equipment combinations based on venue size and usage needs allows for swift and effective deployment, preventing resource and energy wastage. BXB's Smart Meeting Room Solution, with its high compatibility, ensures easy future upgrades and expansions.
Digital Leadership, Low-Carbon Communication
Through paperless practices, cloud conferencing, and digital recording, the reduction of paper consumption and travel costs not only leads to cost savings but also lowers carbon footprint. In the BXB Smart Meeting Room Solution, support for air quality alerts, temperature-humidity detection, and intelligent scheduling energy management allows for easy implementation of environmentally friendly green meetings.
This solution has been implemented in numerous enterprises and government agencies, including HIWIN, ASE Group, and others. The aim is to positively impact the digital competitiveness and ESG goals of even more customers.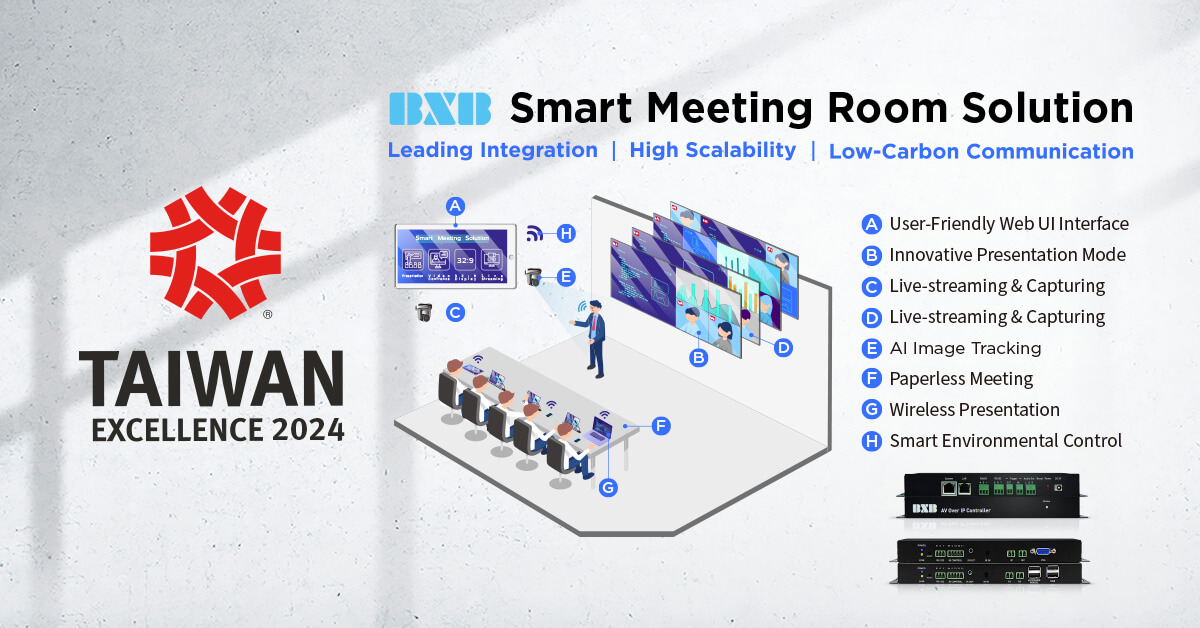 Innovative 3-in-1 Smart Wall Speaker
Introducing TRIX, the world's first X-shaped speaker designed with innovation and environmental friendliness in mind. Breaking away from the conventional speaker framework, TRIX integrates three core functions – Bluetooth amplification, two-way communication, and intelligent voice control. It not only plays music and broadcasts messages but also controls the on/off status of devices in various spaces such as educational environments and offices. TRIX brings a groundbreaking audio transmission experience to diverse spaces.
Singular Patent Design
TRIX's design is inspired by the mathematical multiplication symbol, symbolizing the idea of mutual multiplication and fostering a harmonious communication atmosphere. Simultaneously, through professional simulations of sound wave angles and breadth, the collision and reflection of sound waves within the X-shaped structure expand the audio field to a radius of 8 meters. This ensures a clear and comfortable listening experience from any angle.
Innovative Feature Revolution
Equipped with Bluetooth 5.0 transmission, enabling seamless playback of audio from mobile devices for enhanced versatility in educational and commercial settings. Seamlessly integrating zone broadcasting and two-way intercom, it effortlessly facilitates specific area/floor broadcasts, emergency assistance, and voice locating using built-in microphones, saving manpower and time otherwise spent on back-and-forth movement.
Featuring built-in Google Assistant for intelligent voice control of on-site devices such as screens, lighting, and audiovisual equipment, achieving energy-saving objectives.
Realizing a Green Sound Field
With a doubling of the sound coverage area, the number of speakers installed is halved, conserving resources and reducing environmental impact. Eco-friendly zone broadcasting prevents noise interference in other areas. The integration of emergency broadcasts for air quality warnings, earthquake alerts, and two-way intercom ensures the safeguarding of personal safety.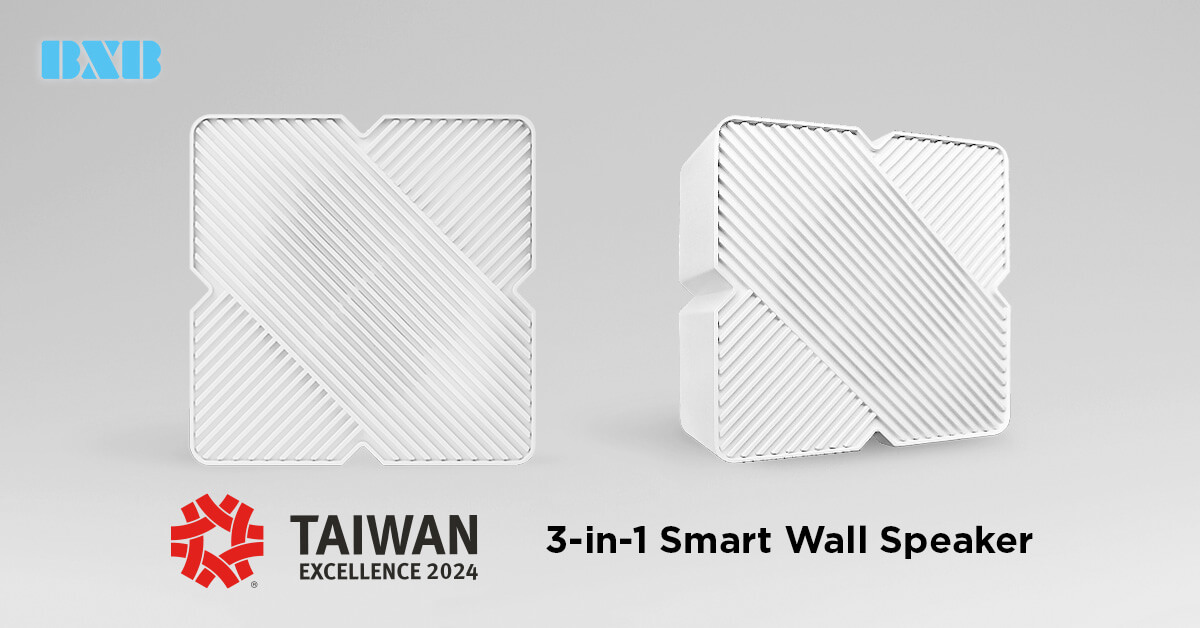 Founded in 1991, BXB Electronics focuses on audiovisual IoT integration as its technological core, offering solutions for two main environments: 'Smart Office' and 'Smart Classroom' As an MIT (Made in Taiwan) enterprise, BXB's mission is encapsulated in 'Use tech to break barriers' aligned with the spirit of 'Best X Best'. The company relentlessly pursues excellence in product development, customer service, and operational enhancements. By consistently introducing high-quality products, it ascends as a premium Taiwanese brand, making strides on the global business stage.
BXB Electronics has secured the top market share in Taiwan, boasting over a hundred successful sales cases worldwide in the fields of conference systems and public broadcasting. The products have been adopted by global embassies, various government agencies in Taiwan, over 400 schools, and publicly listed companies such as Central Five Institutes, county and city governments, HIWIN, ASE Group, among others, all of whom are valued clients of BXB. We commit to delivering the utmost in quality products and services, leading our global partners to mutual growth, and advancing towards the vision of 'Making the world more harmonious!