This project, Almaty Palace of Schoolchildren, was successfully completed by BXB's distributor in Kazakhstan- STEPLine. The administration of the palace requires a conference room with microphone units, cameras with image-tracking, recording and live-streaming, and the ability to simultaneously output images from all cameras directly for video conference. Moreover, audio quality is the key for them.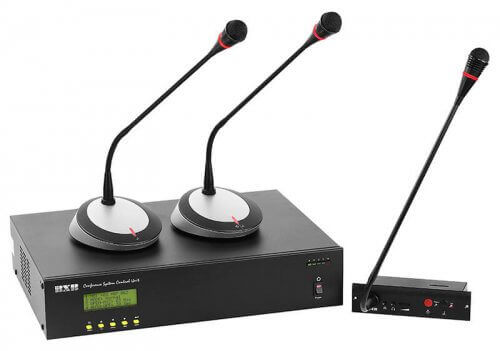 BXB's UFO-2000 Conference System was chosen as the best solution for this case. This system allows connecting up to 10 chairman units and 999 delegate units and is able to automatically turn off the microphones after the end of speaking. Even though the attendee forgets to press the button to turn-off, the meeting still goes smoothly.
In this case, 1 unit of UFO-2011 chairman microphone and 24 units of UFO-2012 delegate microphones were installed. The UFO-2050 Conference Main Control Unit features a wide range of meeting operation modes: Normal, Chairman, Override, and FIFO. In Chairman mode, the chairman can turn on/off the microphones of the participants within discretion.
BXB's system can easily integrate with related A/V products of other brands​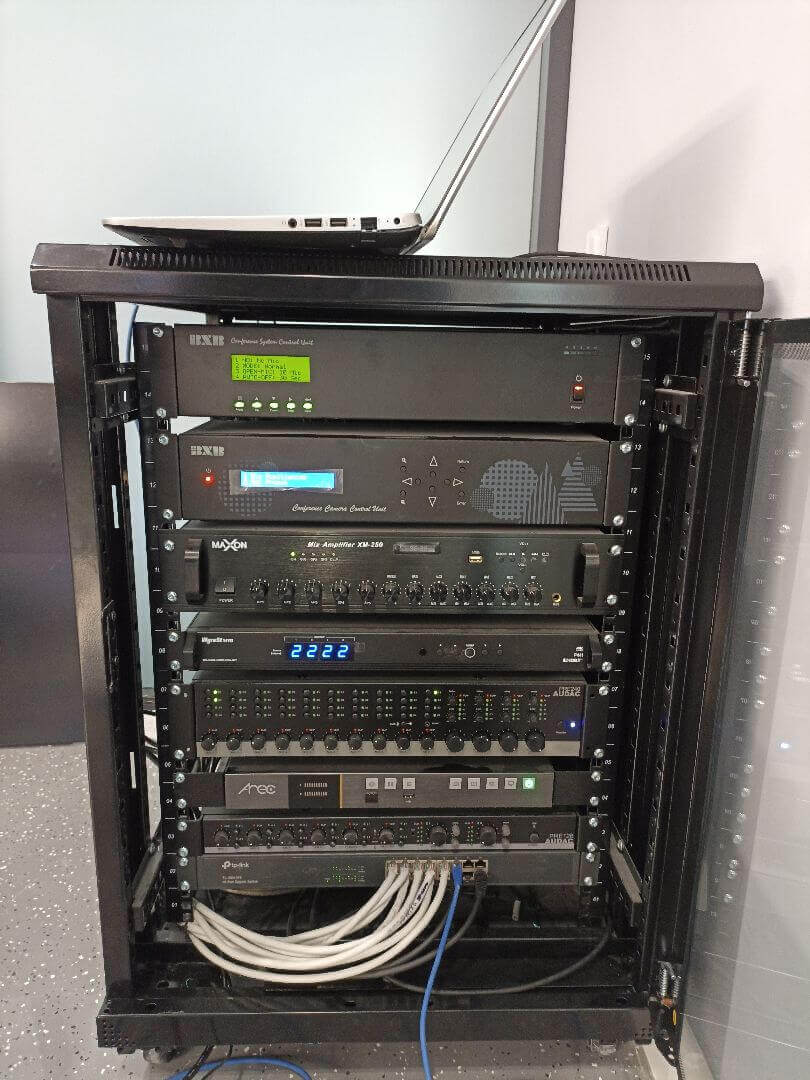 For video conferencing and meeting recording, streaming media station was used in this case. It allows the user to simultaneously capture four video sources (IP or HDMI), switch between them, combine them in the same channel, record, and live-stream to websites (recommendation product: BXB's HDR-731 Streaming Media Processor)。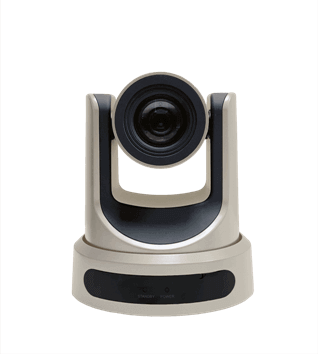 4 wide-angle PTZ cameras were used. The camera is capable of outputting Full HD video with up to 1080/60p resolution. The video signal can be transmitted via HDMI, USB 3.0, and IP. The advanced processing algorithms and an exceptional tilt and roll mechanism ensure vivid color and smooth movement for video recording (recommendation product: BXB's HDC-715 Professional PTZ Camera)。
All cameras are controlled by the BXB C901 Conference Image Processor. With its help, the customer can change the position of the camera in the horizontal, vertical planes, as well as perform a quick turn. 
The inputs and outputs of BXB C901 is RS-485 and RS-232 standard. They are compatible with BXB A/V equipment, as well as cameras from Sony and other brands. The USB port can be used for data transfer and communication with control software. 4 input and 6 output ports can be used for imaging. For each of the outputs, the brightness level can be adjusted up to 4 gradations. BXB C901 has a high performance, which allows you to connect up to 4 cameras at the same time.
BXB C901 can be used for recording an event with focus on the speaker. Up to 128 position points per camera can be set and stored. It allows you to record from different angles.
Note: BXB C901 has been discontinued. The substitute model is HDS-720 IP Controller, which performs more advanced image processing techniques and operation efficiency.
For sound output, the customer chose 2-way ceiling speakers and column speakers through a preamplifier. It brilliantly reproduces the human voice. The feature of the column speaker is the narrow directivity of the sound from each speaker to a long distance – the entire length of the room. As a result, everything will be clearly audible at the farthest rows. Sound feedback is the condition everyone doesn't want to face during the meeting. This loudspeaker has a fairly wide horizontal sound beam pattern, which significantly reduces echo and feedback from the microphone, and improves the speech intelligibility (recommendation product: HDC-717 Professional PTZ Camera).
As COVID-19 changes the way we conduct meetings, meeting room set-ups will no longer be limited to face-to-face meetings or one-on-one video conference meetings; rather, multiple remote participants will participate in meetings at the same time requiring a set-up similar to a command center. In this case, BXB's VDM system- AV over IP technology will play a huge role in supporting this requirement. This will allow media projection from multiple sources to large screens, enable sharing of visual information and seamless collaboration through its two-way interaction features.
Modern solutions for conference systems are not only stationary microphone units for delegates and chairmen, but also with cameras, as well as simultaneous display of images from all cameras. High-quality sound output is also essential. BXB's solution can help your communication more efficient and smoother.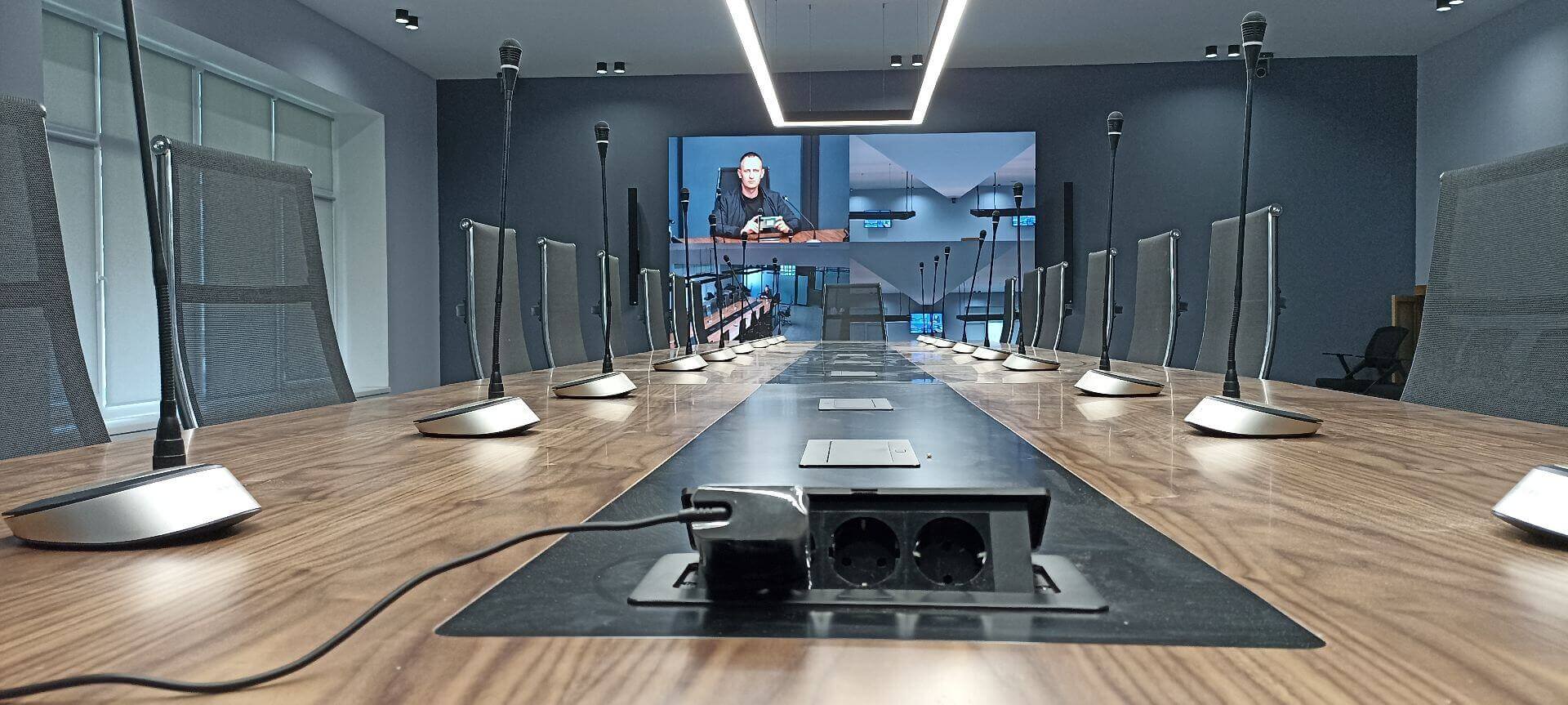 Contact us via the chat box at the bottom right of the site or e-mail to bxb@bxb.tw, and our specialists will offer a solution based on your need!