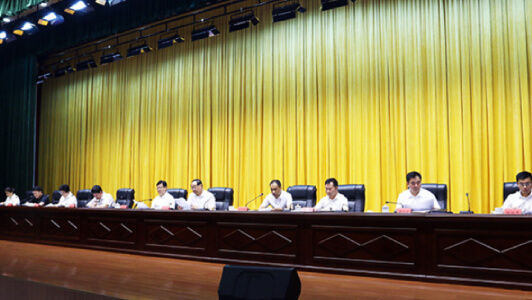 Installation Location: Lecture hall of Fushun City Government
EDC-1150 Digital Conference Main Control Unit x 1
EDC-1111 Table-top Chairman Conference Microphone x 1
EDC-1112 Table-top Delegate Conference Microphone x 15
Fushun City Government is the main administrative organization of Liaoning Province, being responsible with the stable development and coordination of city's politics, economy, and public affairs.
The maximum capacity for the lecture hall is 500. It's an important place to the government officials for meeting and decision-making. Therefore, the system's stability and microphone's sound quality are the first priorities. Due to the large space of the hall, it's quite essential to make sure the stability of audio transmission as well as avoid the echo and noise. Moreover, the outlook design of conference microphones should blend with the hall's decoration.
Based on the user's requirements, BXB's EDC series is chosen. EDC, simple-designed and user-friendly, is the basic model among BXB's microphone series. It has various meeting modes and performs clear sound quality. The flexible integration ability facilitates working with other AV equipment. Also, the chairman can easily control the meeting order via EDC's humanized operation interface. The simple design of EDC microphone is also pleasing to the eyes and adaptable with the room's decoration.
The customer is greatly satisfied with the upgrade of the lecture hall. Mr. Wang, the technical manager of this project, expressed, "stability, functionality, and safety are the key elements of a conference system.
BXB's EDC can totally meets the demands of holding a successful meeting." We appreciate our China distributor Beijing Litron Ltd. promoting BXB's products and offering complete solutions and services to local customers. BXB would keep holding the spirit of "Best x Best" on the product development and customer services.