BXB has held incentive tours for many years. The tour is not just only for rewarding employees' hard work, but enhancing employees ' loyalty and identity to the company. It induces staff's strong expectation and stimulates the business development, making the team work more solid and stronger. This time, we visit Hainan Island, soaking ourselves in the vacation atmosphere with white sand beach, clear sea water, and gentle wind. Visiting splendid scenery and staying at the ocean-view room of five-star hotel, we luxuriously enjoy the journey at this tropical island. Being one of BXB's staff is such a wonderful thing!
Why do you want to join the company tour this time?
Hank

:

this is my first time joining a company's oversea tour. I'm so glad to have this chance creating a wonderful memory with colleagues.

Winni

:

I always had excellent time at BXB's company tour. I can travel, chat and laugh with the colleagues I seldom interact with.

Corinna: letting the working go, I can enjoy the time with colleagues during the trip. We can walk around and get together in the room chatting and eating. I really enjoy the relaxing time knowing more about colleagues. It's also wonderful to take my baby joining the trip; this is one thing I always look forward to.

Tony: via the company tour, I can visit the places such as Vietnam and Hainan that are not on my traveling list. Most of people may have stereotypes to the countries where they don't like too much. However, if we didn't visit there personally, our cognition to those places would keep as "how do others say", rather than "our own experiences and thinking".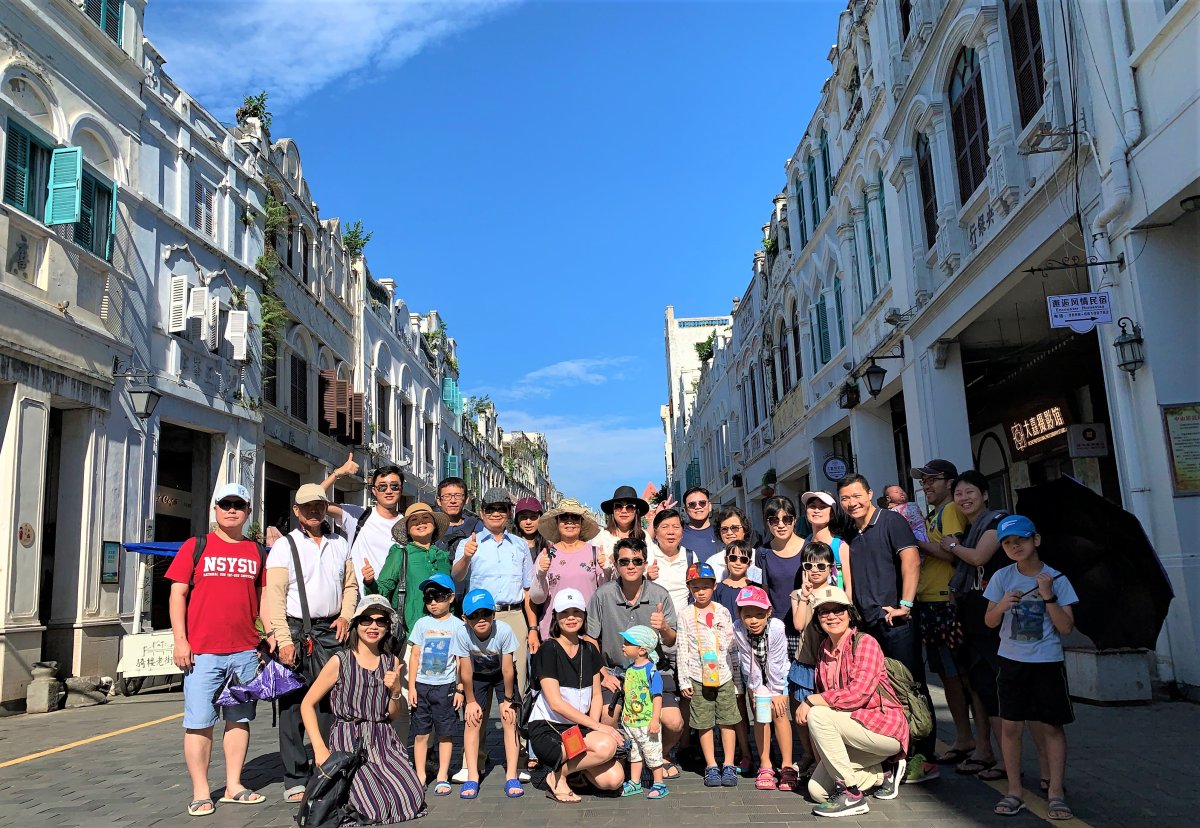 What's your original expression to Hainan Island? After visiting the island, do you have any experiences that subvert your original thoughts?
Hank

:

the fish village and the Miss World of Sanya are what I know about Hainan Island. After visiting this island, I discovered that the local infrastructure is as modernized as the coastal cities in the mainland China. I feel amazed that Hainan has transformed from a small village into an international sightseeing city within only few years.

Rita

:

an underdeveloped small island is what my original expression to Hainan. However, as arriving there, I discovered that the public facility and the life of the residents have reached to the level as a metropolis. There's no industrial pollution, so the air and sky are especially clean. To be the venue of Boao Forum for Asia, Hainan Island not only possesses unique cultures and histories, but upgrades to a meeting center of international trade.

Winni: I originally considered that Hainan Island is men's paradise. After visiting here, I felt this island a relaxing paradise. There're many unique-designed hotels and skyscrapers. I can see Hainan is striving for becoming an international sightseeing island.

Tony: after visiting Hainan Island, I again ensure that I can't stand the hot. One word that precisely represents Haian is hot, very hot, extremely hot! I also discover that it's not an underdeveloped region, but a winter resort where many investors come. There're abundant high buildings at the city center but there's a great gap between the city and county. It's also interesting to know the special cultures- squatting toilet and washing tablewares with hot water.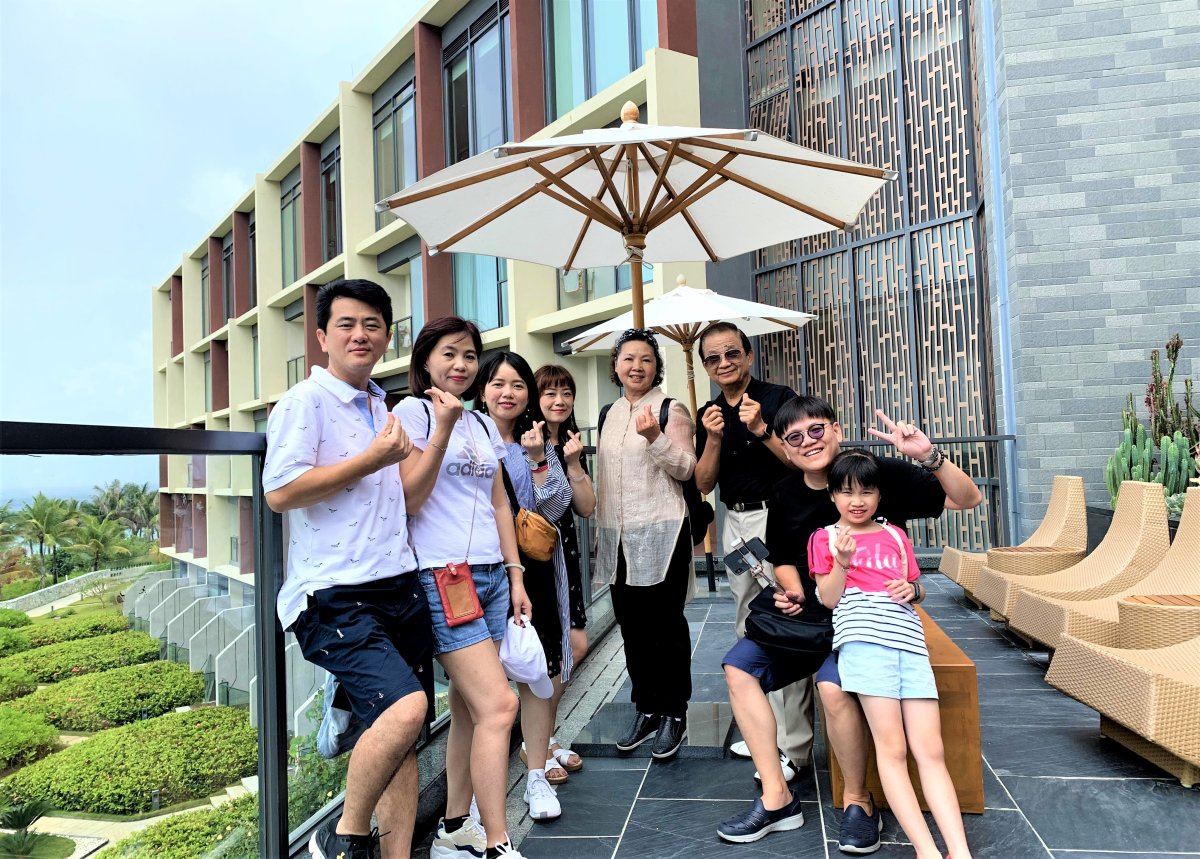 Is there anything impressed you the most?
Hank

:

besides the splendid view, there're two things impressed me. Firstly, the tour guide Mr. Zhou's service is considerate and thoughtful. He prepared the high dining chair for my little boy. Secondly, at each sightseeing spot, there're service specialists helping taking photos as customer's souvenir. However, they didn't push or promote the sales of the pictures, making us enjoy the photo-shooting without any pressure. As getting out from the spot, we can see the photos have been laminated or framed. It arouses the perception that the photos have belonged to us so that we're willing to buy it. After my discovery, the purchasing rate is over 95%. Customers and the sales person both get a win-win outcome. This kind of customer experience impressed me a lot.

Lara: the show at the second day is amazing! Although the venue is at an outdoor square, the high-scale level is almost as the same as Cirque du Soleil's. Moreover, the Xiangshui Bay Marriott Resort & Spa we stayed at the last day is luxury and wonderful. The sea view and night view are splendid. We lay down on the deck chair and luckily saw a shooting star! Thanks a lot for BXB employee committee's careful arrangement, making all staff and the families enjoy a relaxing tour and high-quality accommodation.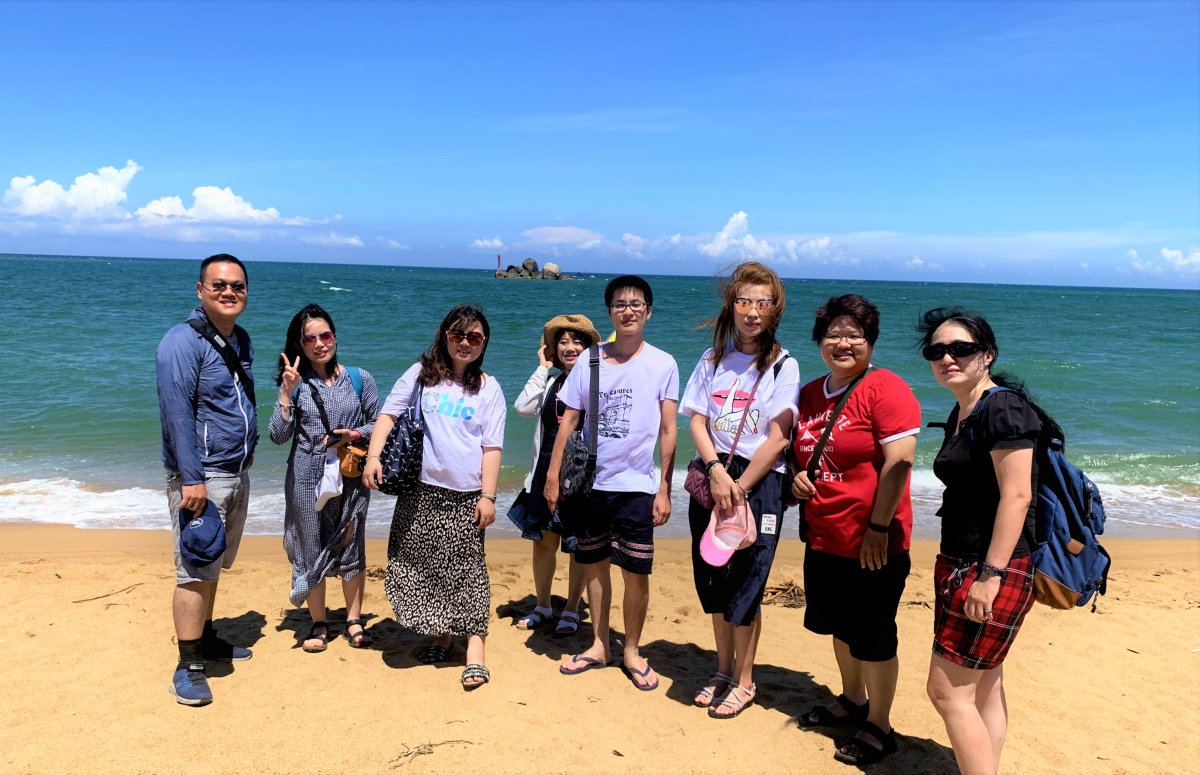 What's your recommended places of this trip? Why?
Hank

:

the Xiangshui Bay Marriott Resort & Spa we stayed is really comfortable. It's just 200 meter away from the beach. You can stroll along the beach and appreciate the sunset; all the fatigue are totally gone. At night, I brought my boy to the swimming pool playing the slide, danced around the campfire, watching the starry sky. It's really enjoyable!

Lara

:

I recommend taking the skyrail to Phoenix Mountain and then visiting the famous spot- Lover's Pledge. You can watch the entire Hainan Island from height, walking on the path with cool wind, and visit the beautiful crystal church. The summer heat has all gone away!

Winni

:

by visiting Ya Tian Village, you can discovery the traditional culture and life of the Miao nationality. Abundant coconut palms and harmonious Miao dancing can make you totally involved in the Miao culture.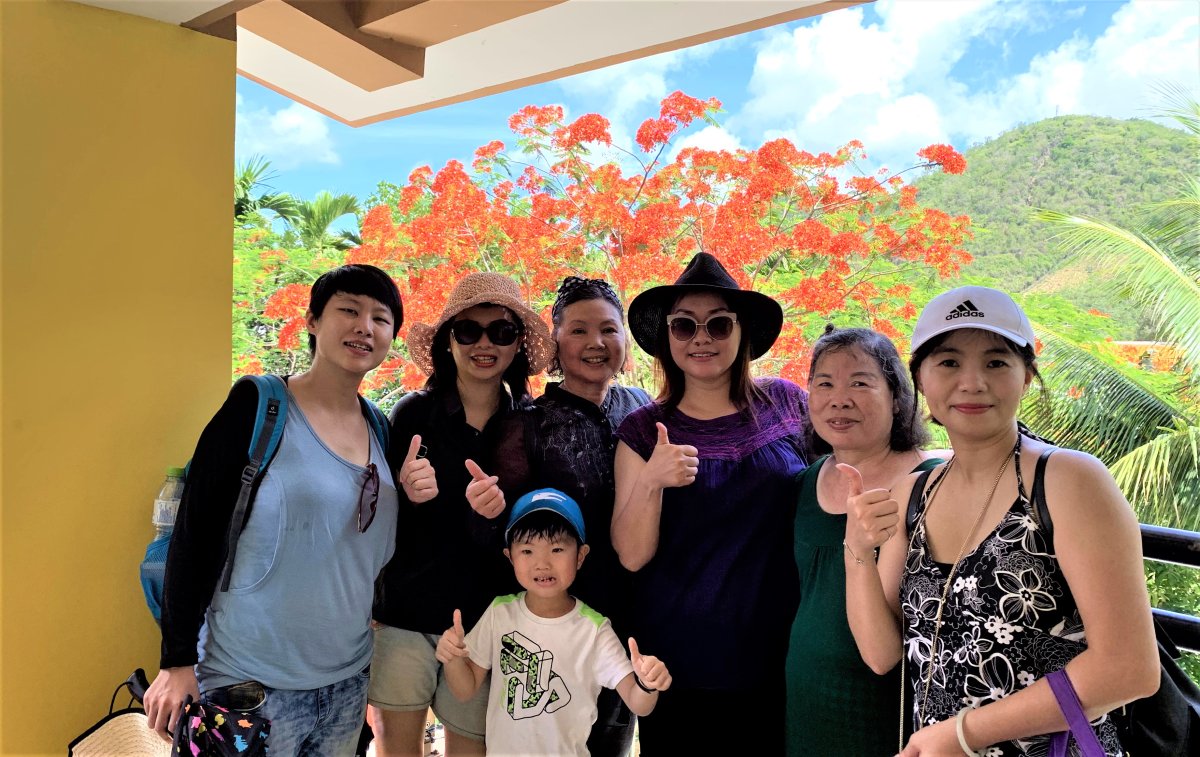 What's the difference between travelling alone with travelling with colleagues?
Hank

:

via this trip, I knew lots of colleagues who I only met via video conferencing. After the travel, I feel that BXB's staff are very considerate and passionate. I would like to specially thank to Mrs. Wu; she borrowed us an umbrella to keep the sun out.

Ann: Colleagues can also be friends; this is what I deeply perceive from this trip. I could see other sides of colleagues that are rarely seen from work. For instance, the gentle colleague can still enjoy drinking for each meal! Moreover, under the blazing sun, we considerably share the hand-held fan for each other. I can feel the strong loyalty and intimate relationship with colleagues.

Tony: some people separate business and personal matters clearly; however, some expect colleagues can be friends as well. Some people even want to have connections with supervisors out of work. Therefore, different concepts would affect the willingness and perception to the company tour. For me, I hold a neutral point of view. Via travelling with colleagues, I can discover another aspect of their personality and enhance the connections with them. These are what I couldn't get from travelling by myself.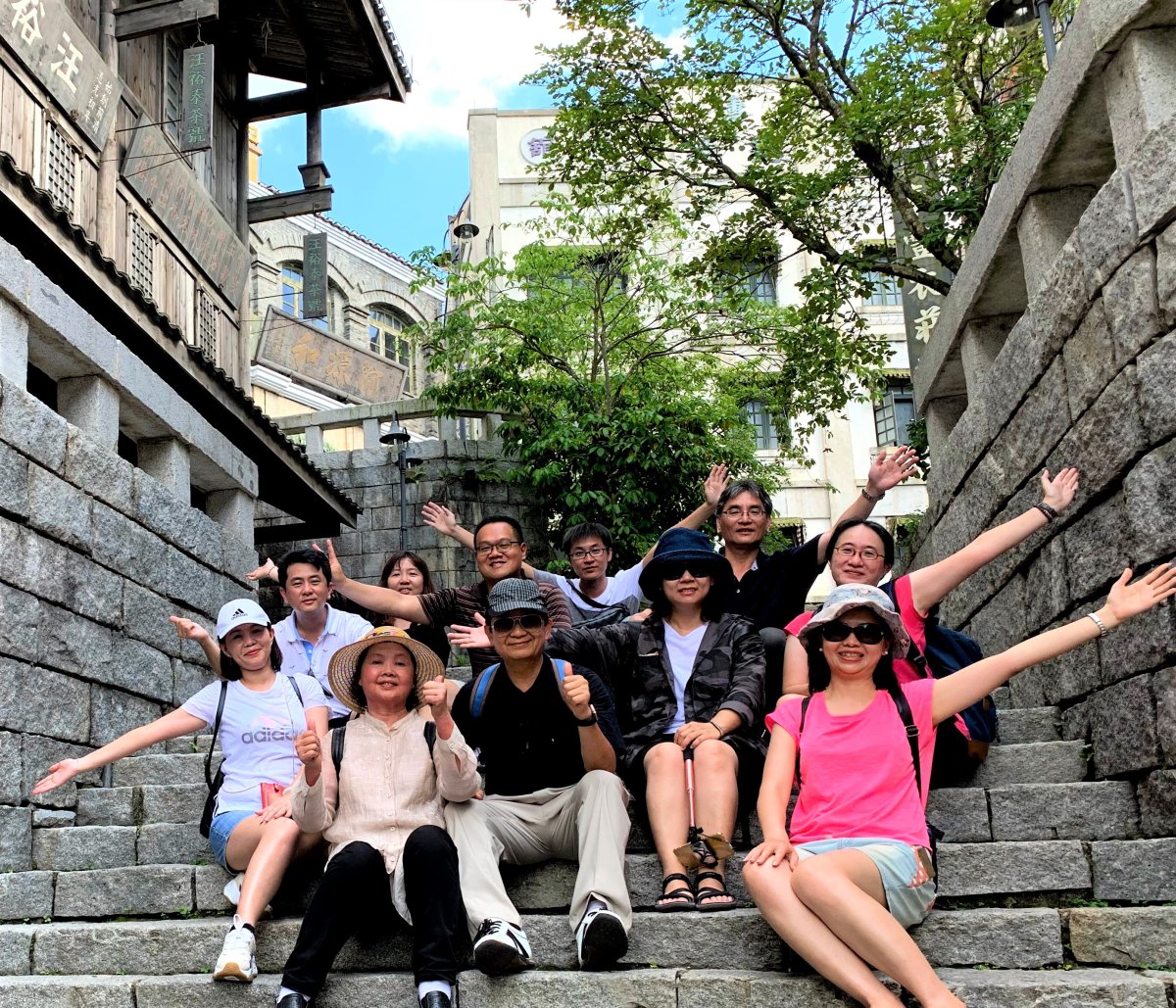 I have something to say to BXB's employee commitee.
Hank

:

this is a great trip with smooth schedules. They also support staff's personal needs. I appreciate what they did a lot.

Lara

:

the hotel arranged is really comfortable and relaxing. Thanks them for arranging such a great tour.

Ann: BXB's employee committee is really considerate. Everyone can enjoy the sunshine and beach with carefree mood. It's great an unforgettable trip.

Mita: I had a great time from this trip, especially at Feng Xiaogang Movie Town and hotel's swimming pool. Each colleague's smile on the photos is the most wonderful memory of this trip.