"Writing/General manager's Office"
Taiwan Excellence Award Ceremony 2019 was held on 9, November. BXB's three registered products were picked again from a candidate pool of 1,127 products this year, representing that BXB's value in R&D, design, quality, and marketing is certified with the nation. Up to now, 18 items of BXB's products have honored with Taiwan Excellence Award. The awarded products cover the fields of business, education, and ICT services. The continuous award-winning encourages BXB a lot on developing more innovative products.
BXB's founder Mr. Wu attended the ceremony and expressed that, "BXB spends lots of time on optimizing product's function and design as well as adapts with the cutting-edge technology. We integrate cross-field AV techniques to develop the products that can meet customer's various demands. This is the foundation of BXB's business spirit." To take a broad view of BXB's winning products this year, they are all customer-oriented solutions in line with ICT and IoT trend. In this article, we briefly introduce the features of the two main solutions: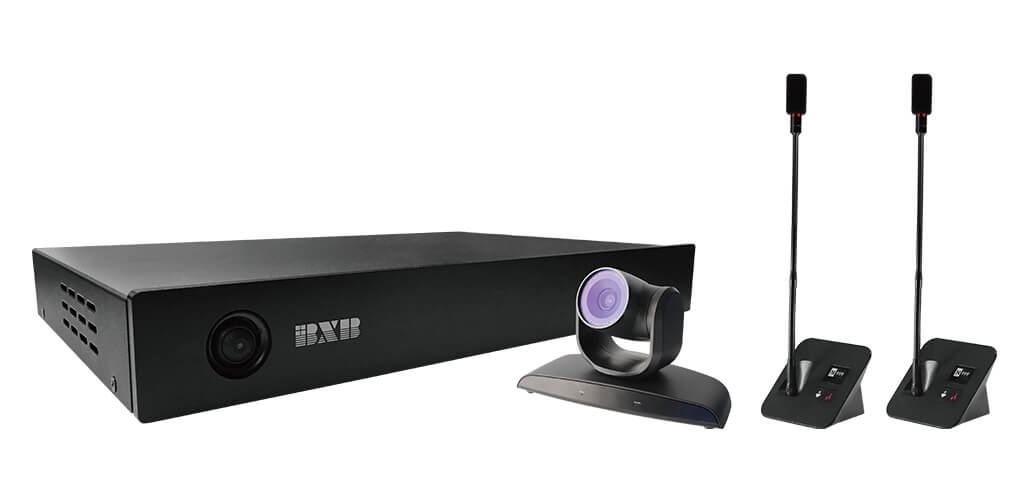 Great partner for business communication- Q.con Image Auto-tracking Video Conferencing Solution
Traditionally, each side of attendees should use the professional video conferencing equipment for a meeting. However, the equipment is quite expensive and can't be compatible with the mainstream communication software. Q.con can easily solve the above problems and offer an upgraded solution adapting with user's present using habits. Q.con 's image auto-tracking function can auto-detect the speaker's voice and close up the speaker's image, clearly showing the speaker's facial expression. It can also avoid the private discussion being heard / watched by the other side, effectively enhancing the negotiation advantage.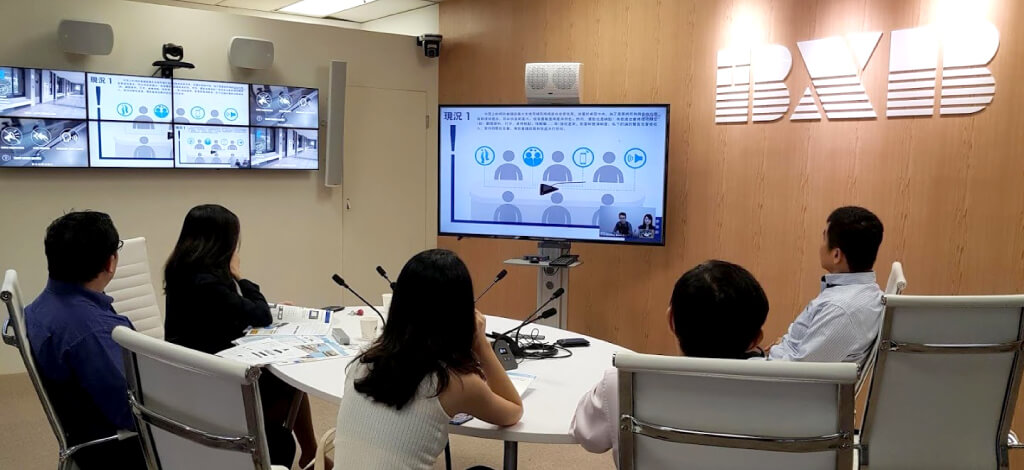 Moreover, Q.con supports mainstream communication platforms such as Skype, Hangouts, LINE, and Whatsapp, making users enjoy the meeting as easy as used to be. Smart sound processing technique is also Q.con's great feature. Each Q.con 's microphone can accurately recognize human voice and avoid receiving other noises such as applause and private discussions. Its voice activation function can solve the problem of forgetting pressing the speaking button, making the meeting go smoothly.
ICP-5000 IP-based Smart Campus Solution with Teaching, Security, and Environmental Control
ICP-5000 applies IoT, cloud, and big data techniques and integrates various functions as multimedia broadcasting, emergency call, security, two-way intercom, and environmental control. It can also broadcast time clocks and daily schedules to the monitors and digital signage on site.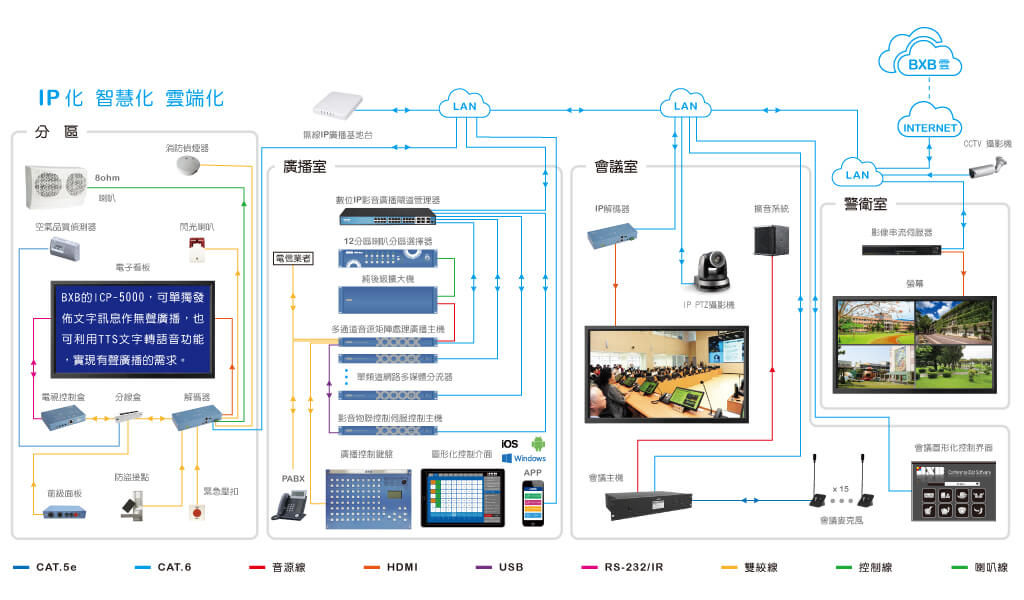 To enhance the efficacy of remote control, ICP-5000 facilitates the administrator using the internal-line/fixed-line phone to execute remote broadcasting. Moreover, BXB-developed APP can execute streaming broadcasting, making the information announcement instantly and effectively. ICP-5000 can also intelligently control the equipment power such as projector, light, and air-conditioner. Via big data analysis, we can clearly know the condition of electricity consumption.

Integrating with the meeting room on site, ICP-5000 makes the meeting room not only for general meeting, but for the command station. The decision-maker can use the conference microphone to execute broadcasting for emergent messages. It grasps the golden time of reaction and optimizes the command efficacy.
We sincerely appreciate the support and affirmation from Taiwan External Trade Development Council (TAITRA), making BXB's products go global. BXB regards the award of every year as the power of getting the product development moving. We would work harder on offering more excellent solutions that meet the various demands of schools and enterprises as well as making more contributions on nations' economic growth.
To know more the features and applications of the winning products, please click on the links below: