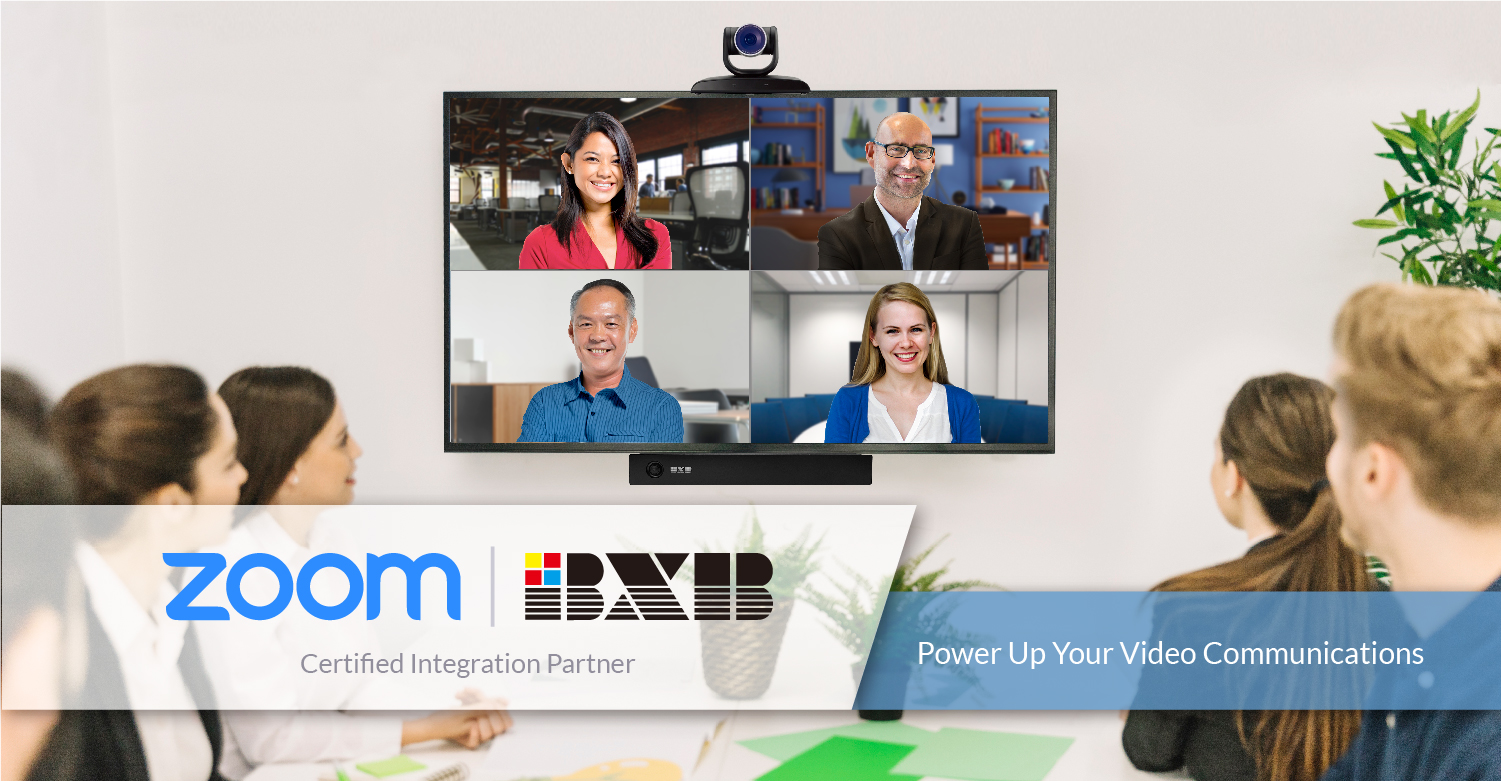 Following with the development of internet and the popularity of social platforms, the workplace collaboration type also keeps revolutionizing. In the brand-new business environment, knowledge workers carry out inter-organization and cross-regional business communication via cloud-based video conferencing and livestreaming on the social platforms to inspire creation and enhance productivity.
While holding a business transnational meeting, the interaction quality of the local and remote attendees could severely affect the efficacy and effect of the communication result. The integration of BXB's Q.con Video Conferencing Solutionand ZOOM's advanced collaboration technology can totally solve the problem, offering you a complete solution for cloud-based video conferencing. It' easy to employ, saving greats amounts of installation cost, and avoiding complicated user interface. This solution also offers excellent AV quality. You can enjoy an instant and highly-effective meeting experience without paying business travel cost.
When would you need BXB + Zoom solution?
If you're used to using Zoom and intending to upgrade your meeting room:

BXB's conferencing system can be seamlessly compatible with Zoom, offering you more effective business collaboration solution.

If you intend to change the present equipment:

BXB's solution not only can optimize your meeting quality but offer a simple solution for working with the mainstream communication software.
You can apply BXB + Zoom solution for....
Various types and scales of business events such as business meeting, employee/customer training, after-sales service, consultant, webinar, interactive product demonstration, and recruitment interview.
Advantages & Features of BXB + Zoom Solution
Quickly employ:

just plug in USB cable to connect Q.con to your PC and share the meeting's URL to all the attendees, you can bring ZOOM and BXB's solution into your meeting room. There's no account number or complicated pairing code and plug-in required. You can start a video conference within seconds.

Cross-device & cross-platform: you can use PC, tablet, smartphone, and other mobile devices to start a high-quality video conference anytime, anywhere.
Simple to use: you can get the hang quickly without any professional knowledge.

Paperless and wired (HDMI)

multimedia data transmission, share, and collaboration.

Personal sound-receiving with cardioid microphone: in the traditional way of meeting, attendees should gather together near the single microphone, which greatly affects meeting's smoothness. To solve the problem, BXB offers each attendee a personal microphone which only receives the voice of the in-front speaker. It effectively avoids taking the surrounded noises such as tapping the keyboard, turning over pages, and even talking privately, keeping a meeting's smoothness and ensuring discussion privacy.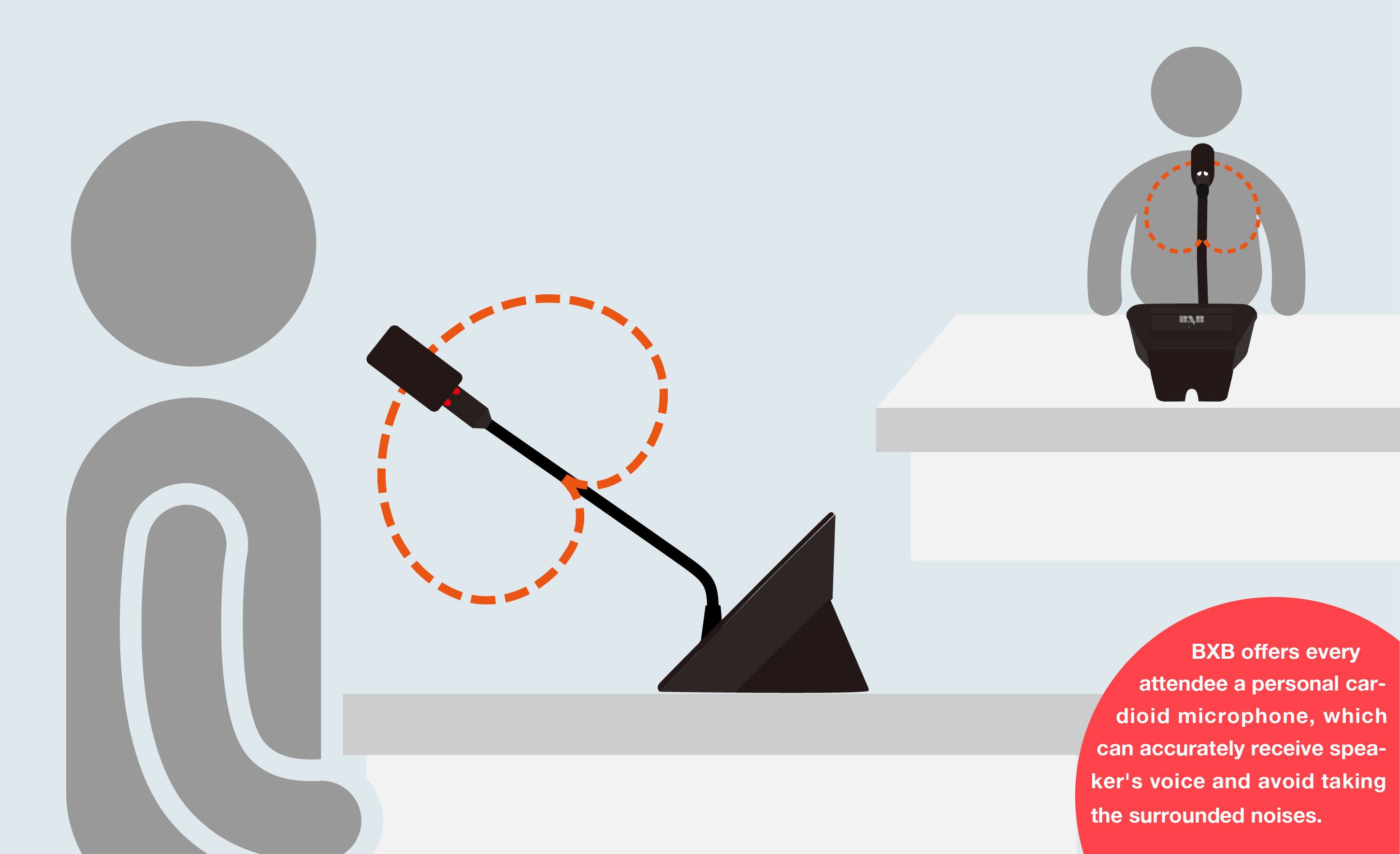 Excellent & stable AV quality: are blurred image, ear-piercing echo, and annoying noises the problems you usually face during the meeting? BXB's solution is equipped with professional sound processing technique which can delete echoes, adjust volume, and reduce noises. The HD camera also offers clear video quality. You can experience a meeting like face-to-face interaction.
Voice-activation technique:

it helps recognize speaker's voice and then turn on the microphone automatically, which avoid the embarrassing situation that some attendees may forget pressing the speaking button on the mic to talk.

Speaker's image auto-tracking: in a remote meeting, it's difficult to know the action the other side expresses. Image tracking function can close up the present speaker, making other attendees clearly know the speaker's facial expression and body language. You must experience this kind of face-to-face communication quality!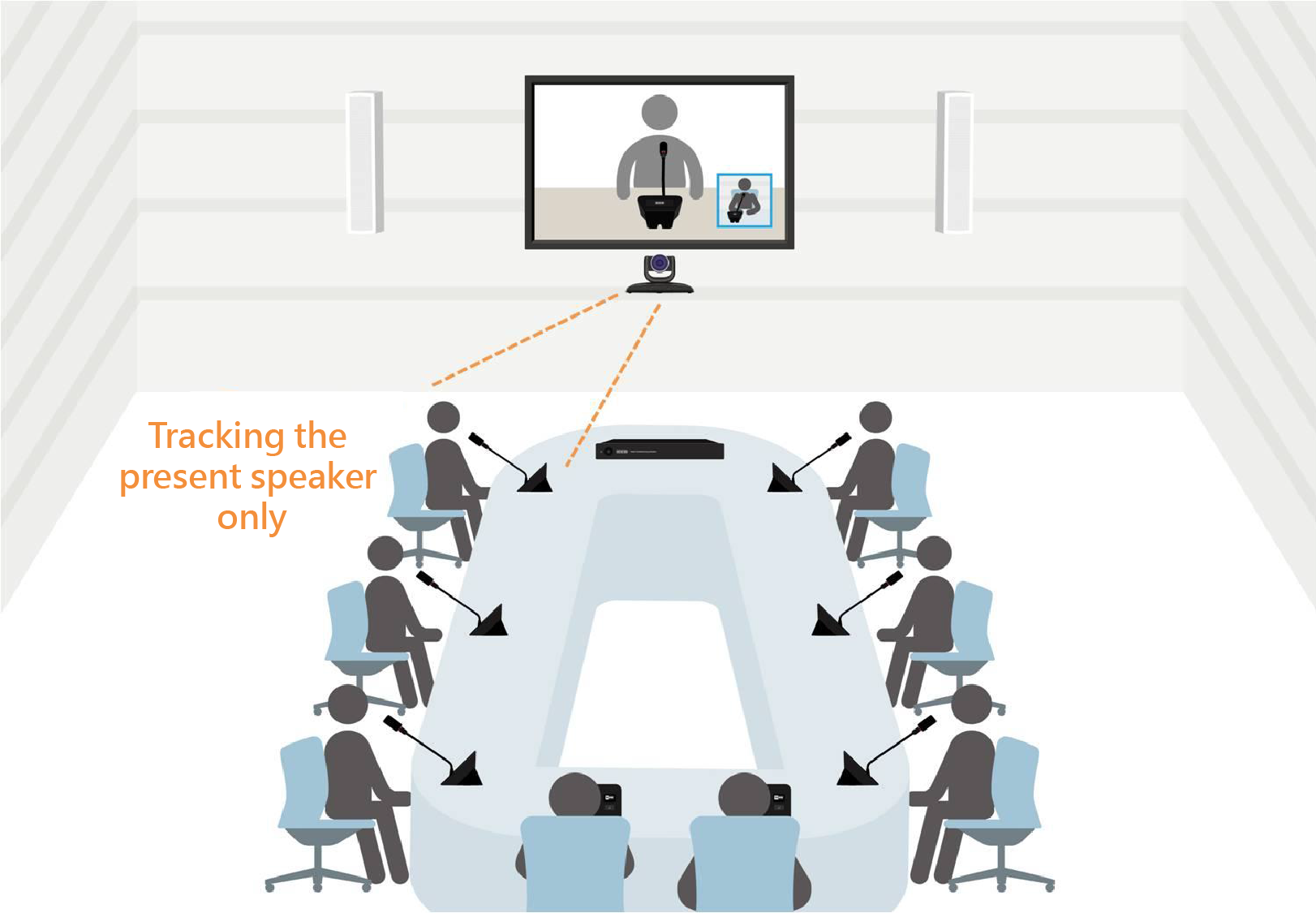 More Applications of BXB + Zoom
Webinars, international collaboration, global product release, and other business events are quickly developing on the network platforms. Livestreaming and cloud storage have become a new type of business collaboration to achieve the goals including cloud-based video conferencing, multi-source extraction, video playback, recording, and livestreaming on multiple platforms at the same time. To meet the market demands, BXB's conference system enables the integration with IP-based recording equipment to make a meeting room also function as video discussion, training, AV data storage, remote teaching, marketing, and the more.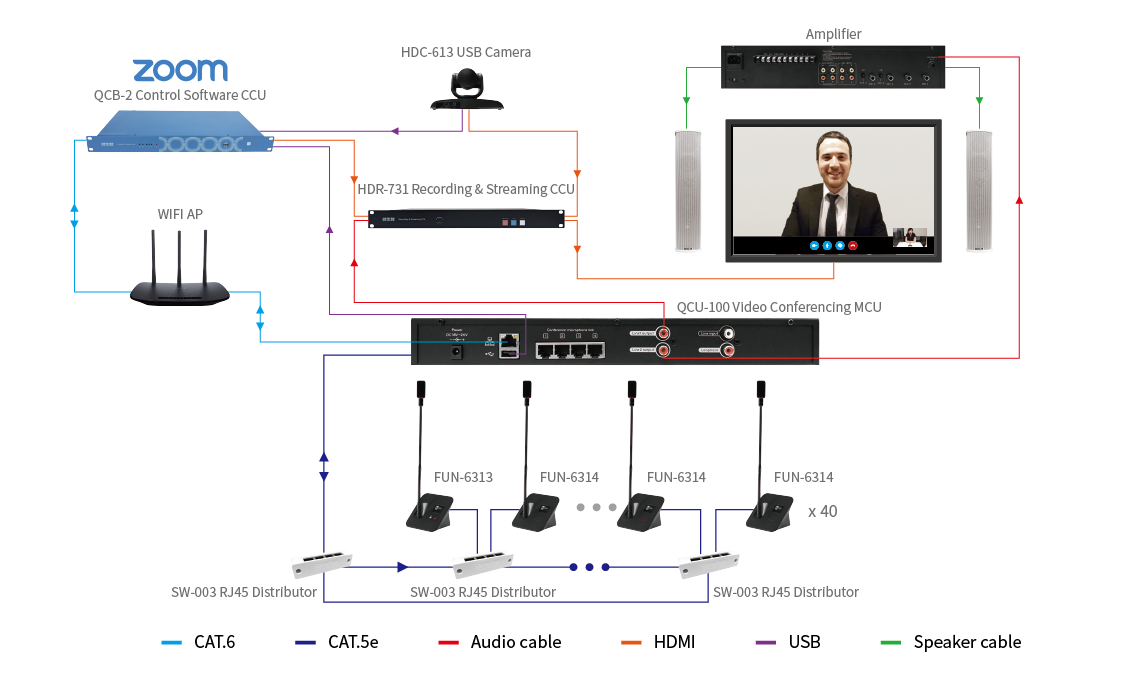 Now, please visualize a meeting situation: at an important business video conference, you take several staff members to the meeting for discussing strategies. However, if the voice and image of your party's private discussion can all be seen/heard by the other party, do you think this is still an effective and advantageous negotiation?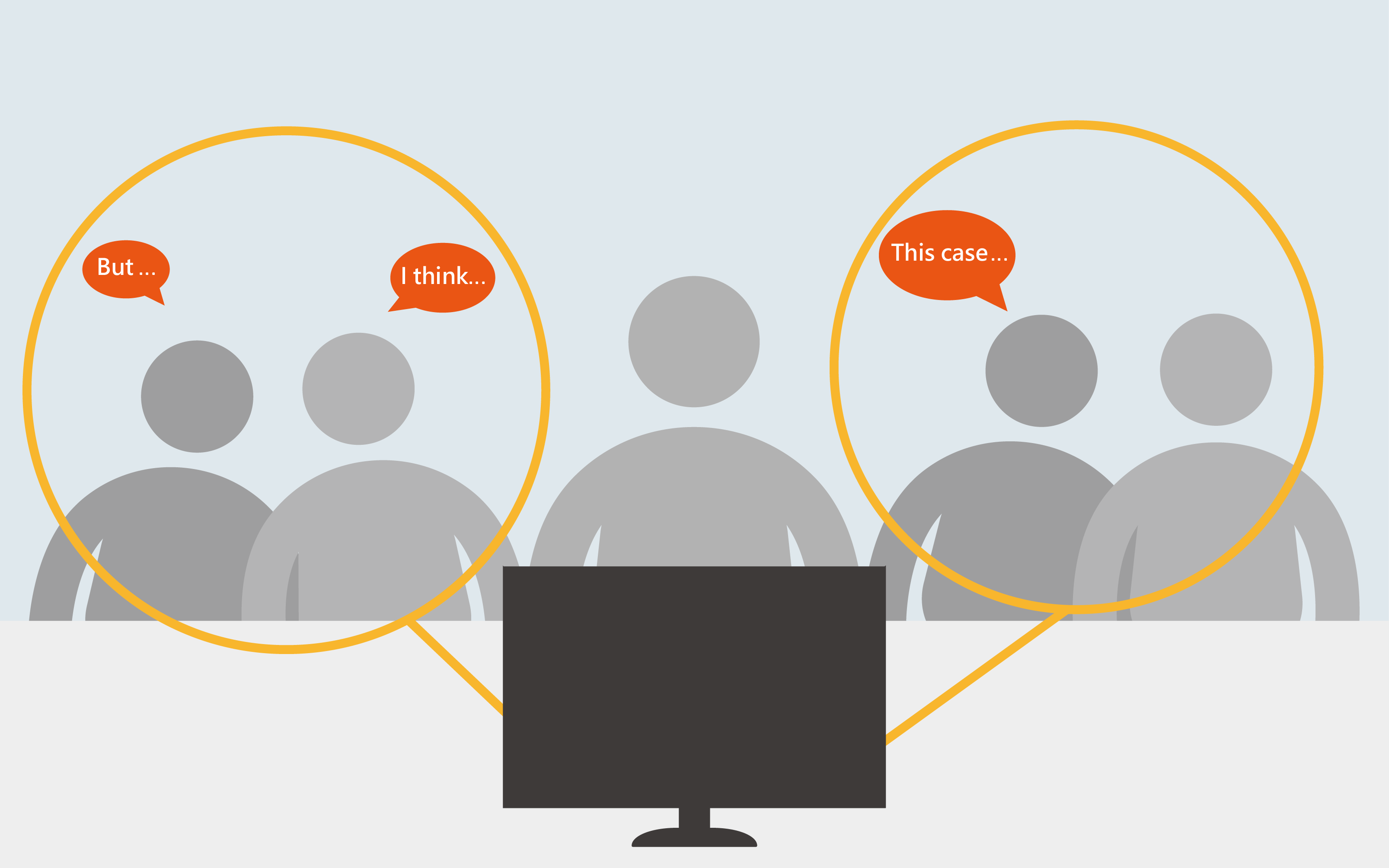 That's right! BXB + Zoom video collaboration solution is your best tool,making you keep perfectly composed during the negotiation. Now, you can add Q.con with Zoom to your present meeting room. Via simple and convenient equipment, your meeting quality and productivity would be substantially enhanced.
Contact BXB now: Tel: +886 7 970-3838