InfoComm India 2019 was held at the Bombay Exhibition Centre from 18th to 20th September. During the three days of the exhibition, the visitors didn't stop showing up due to the heavy rain but couldn't wait to join this great show of the AV industry. This year, BXB also joined the event with our local partner, Univeso Integrated Solutions Private Ltd., and introduced the brand new idea of the smart office solution, which caught many visitors' eyes. If you don't have a chance to visit in person,  keep reading this report to know more about our new solution.
The smart office solution we introduced this time including paperless collaboration solution, AV recording & live-streaming solution, and AV over IP solution. The integration of different equipment makes the IP-based smart office possible. These solutions can improve the working efficiency, make you easily manage all the device and equipment.
Paperless collaboration solution: the paperless conference microphone BXB newly-announced is applied streaming technique, which can make the image of your laptop be projected to meeting room's big screen. Working with BXB's HDS-720 Network AV Controller, the video  of your meeting space would be greatly enhanced. Via web-based operation interface, you can remote control the configuration and preset-point of the camera, offering more convenient and efficient meeting.



AV recording & live-streaming solution: this is a great solution for company training (live-streaming teaching, employee training) and education (remote teaching, digital learning). It's equipped with 2-CH HDMI outputs for setting Multi View or PGM output based on your need. This solution also supports over 100 live-streaming platforms, making your teaching contents, promotional events, and knowledge share to each corner of the world. Moreover, the intuitive web-browser based control interface facilitates the system configuration and recording/live-streaming function. You can just use PC or mobile devices via wired/wireless network to easily, remotely control the system (know more about

HDR-731 IP Recording and Live Streaming MCU

).

 

AV over IP solution: via IP streaming technique, the individual room such as meeting room, training room, office, reception area, etc can all connect together and build the concept of the smart building. The administrator can remote control and manage all the AV sources, matrix switch, KVM control, and TV walls. The IP phone system, digital signage, meeting reservation system, air/temperature detectors, and other equipment can also be integrated to create a full-function, efficient office environment.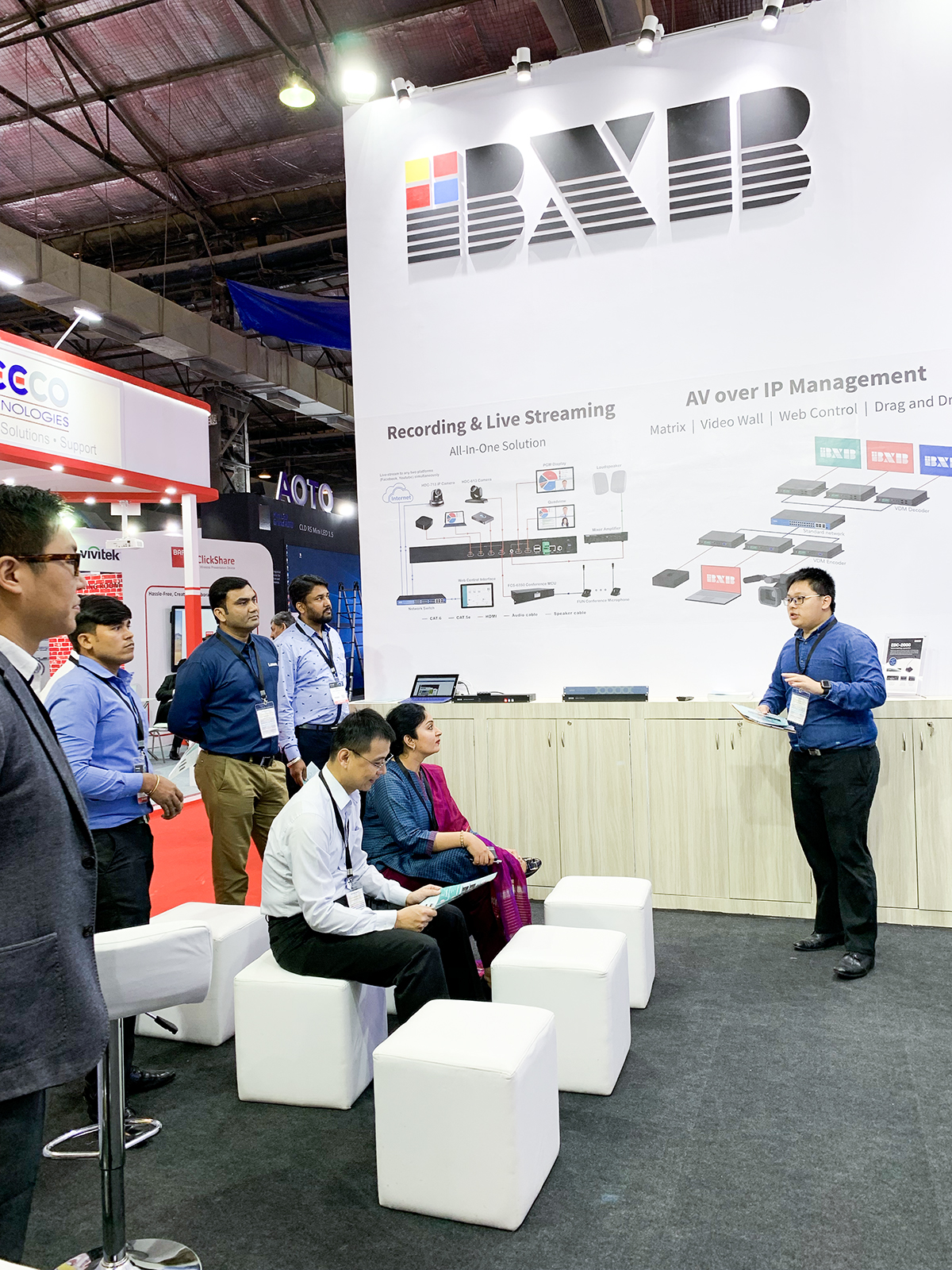 This time we also arrange a demo meeting room at our booth, making visitors experience the advantages of  paperless collaboration solution and brand-new AI face-tracking function. All the visitors were impressed by the advanced technology we showed. In the future, BXB will keep collecting customers' feedback and applying advanced technology to our smart office solution. Welcome contact us to make your office smarter and productive!